Tremendous celebrates 10 million payments sent
By Nick Baum|4 min read|Updated Mar 23, 2023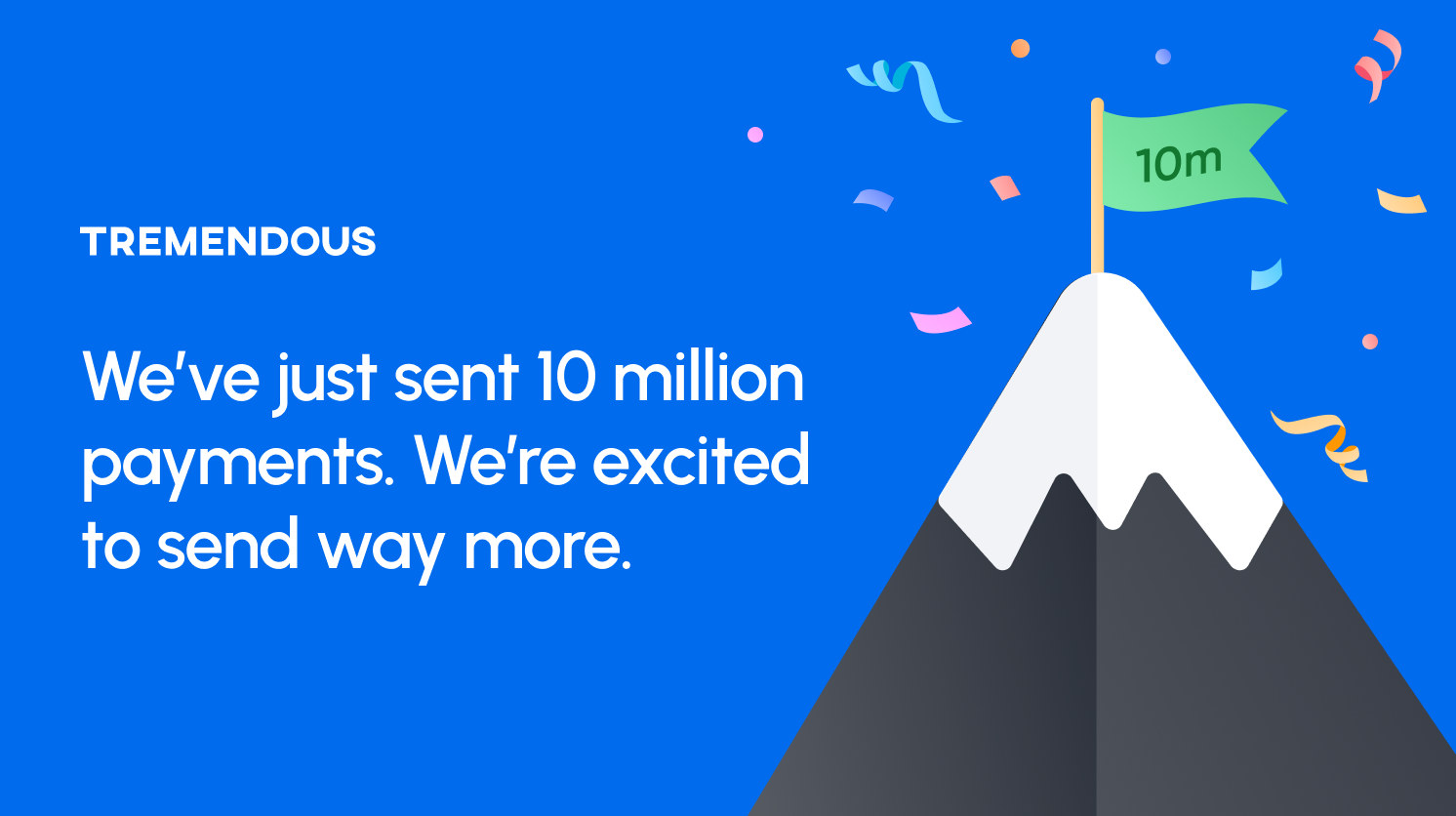 We've reached a heady new milestone: our customers have sent 10 million payments to people across the globe. 
Tremendous is the simplest way for businesses to send people money. And teams doing all sorts of cool things have used Tremendous to show appreciation to research participants, sales prospects, employees, and existing customers. 
Hundreds of you have been kind enough to rate us really highly, giving us an average G2 score of 4.8. Maybe you like products that are free, intuitive, simple, and flexible to both your needs and the needs of your recipients. 
Crossing this threshold is a testament to an expanding portfolio of major enterprises, as well as small-to-mid-sized businesses and nonprofits. We owe it all to our product design, stellar customer service, and intentional company culture. And, above all, to your support. 
You've been hard at work launching creative marketing strategies and gathering crucial insights to build the world's most innovative products. You're executing human-centric employee experiences, developing vaccines, and getting a ton of impactful work done. 
And we're honored to assist in making this work possible. 
It's fascinating to see the hundreds of ways that millions of recipients have redeemed Tremendous payments. Most often, rewards are redeemed as Amazon gift cards in the US, but also as Virtual Visas, PayPal transfers, ACH transfers, and Target, Walmart and Starbucks gift cards. 
Your recipients speckle the globe: they live in Great Britain, Germany, Canada, Vietnam, Australia, Brazil, India, France, Samoa, and Christmas Island. And you've rewarded, incentivized, and compensated them all for their time, effort, and interest. 
In homage to this milestone, we're going to share a few fun facts about our recipients, where they're from, and what they're redeeming. 
Where are these payments going?
Because we make international sending really easy, you've sent funds all over the world. To over 220 countries and territories, to be specific. 
Here are the top 10 countries redeeming the most Tremendous payments:
US 

Great Britain

Germany

Canada

Vietnam

Australia

Brazil

Italy

France

India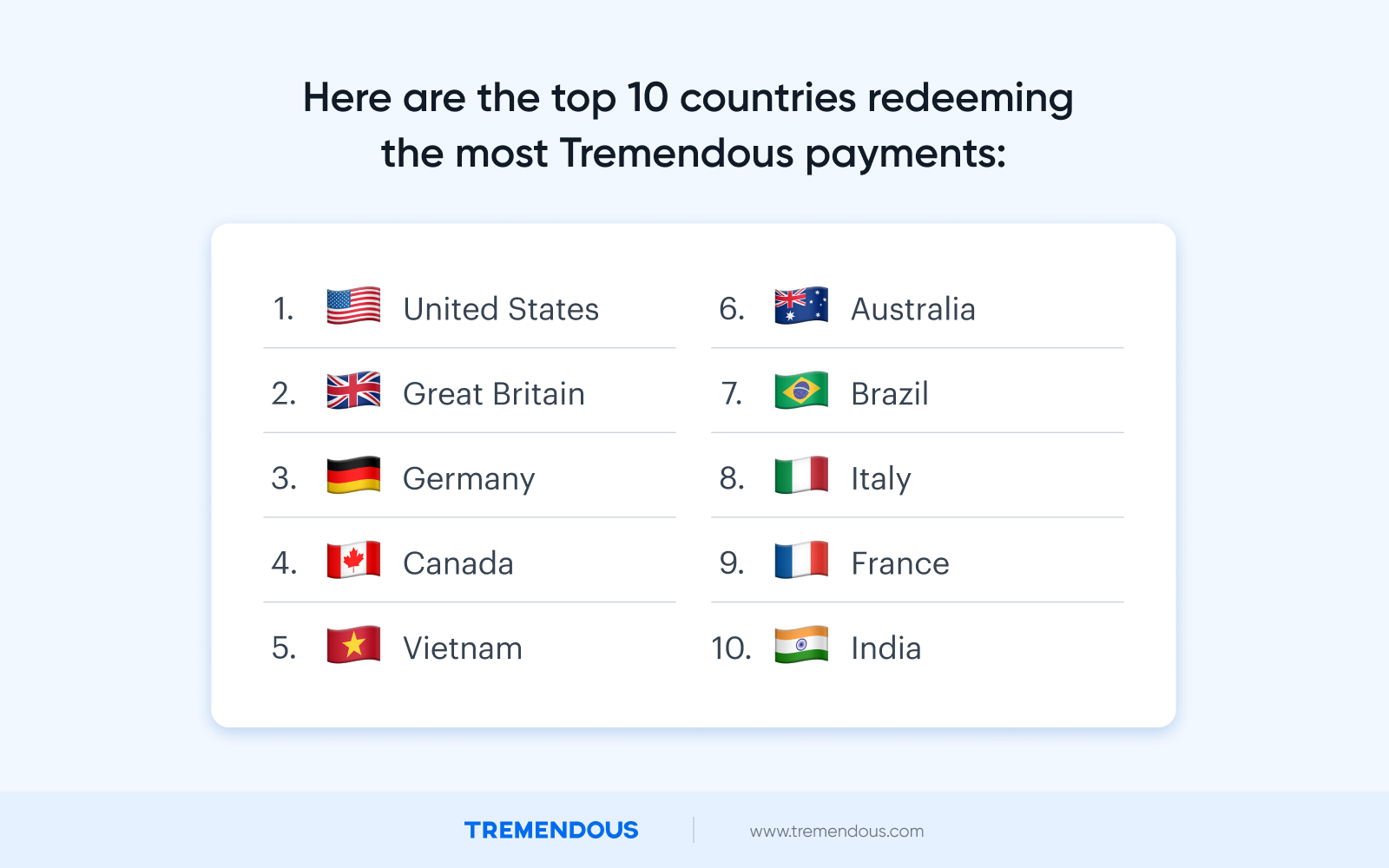 But what really amazes us are the rewards that touch down in hard-to-reach geographies. 
Some rewards have been redeemed in the following places:
Guinea-Bissau

Solomon Islands

Equatorial Guinea

Åland Islands

Falkland Islands

Samoa

Christmas Island

São Tomé and Príncipe

Republic of Djibouti

Kiribati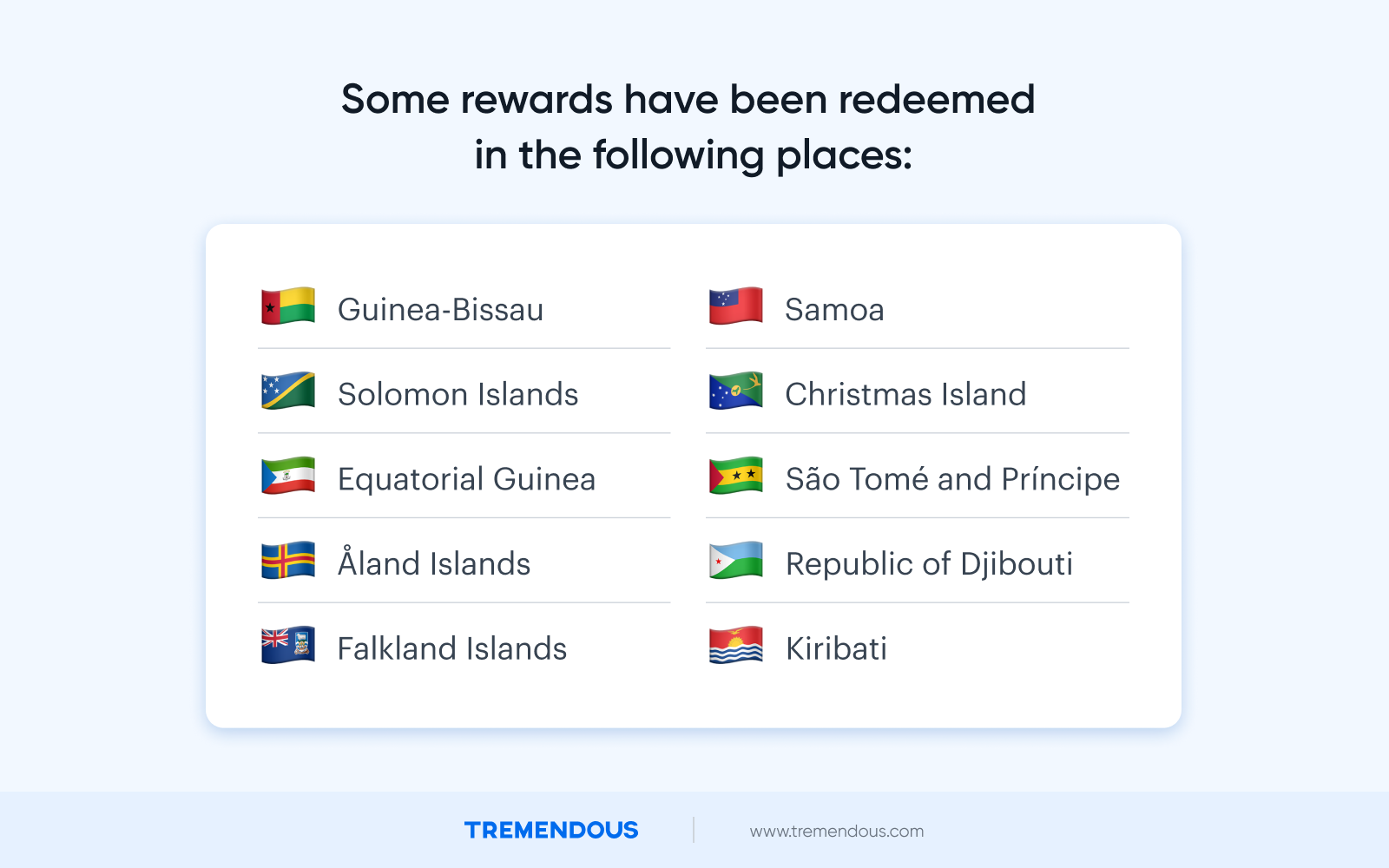 What rewards are recipients redeeming?
All kinds of stuff. 
The most popular options prove people want flexibility, whether it's money in the bank, a gift card to Amazon, or a sum to spend at retailers with a wide array of offerings. 
Here are the top 10 most popular reward options:
Amazon gift cards

Virtual Visas

Paypal transfers

ACH transfers

Physical Visas

Prepaid Mastercards

Target gift cards

Walmart gift cards

Starbucks gift cards

International Virtual Visas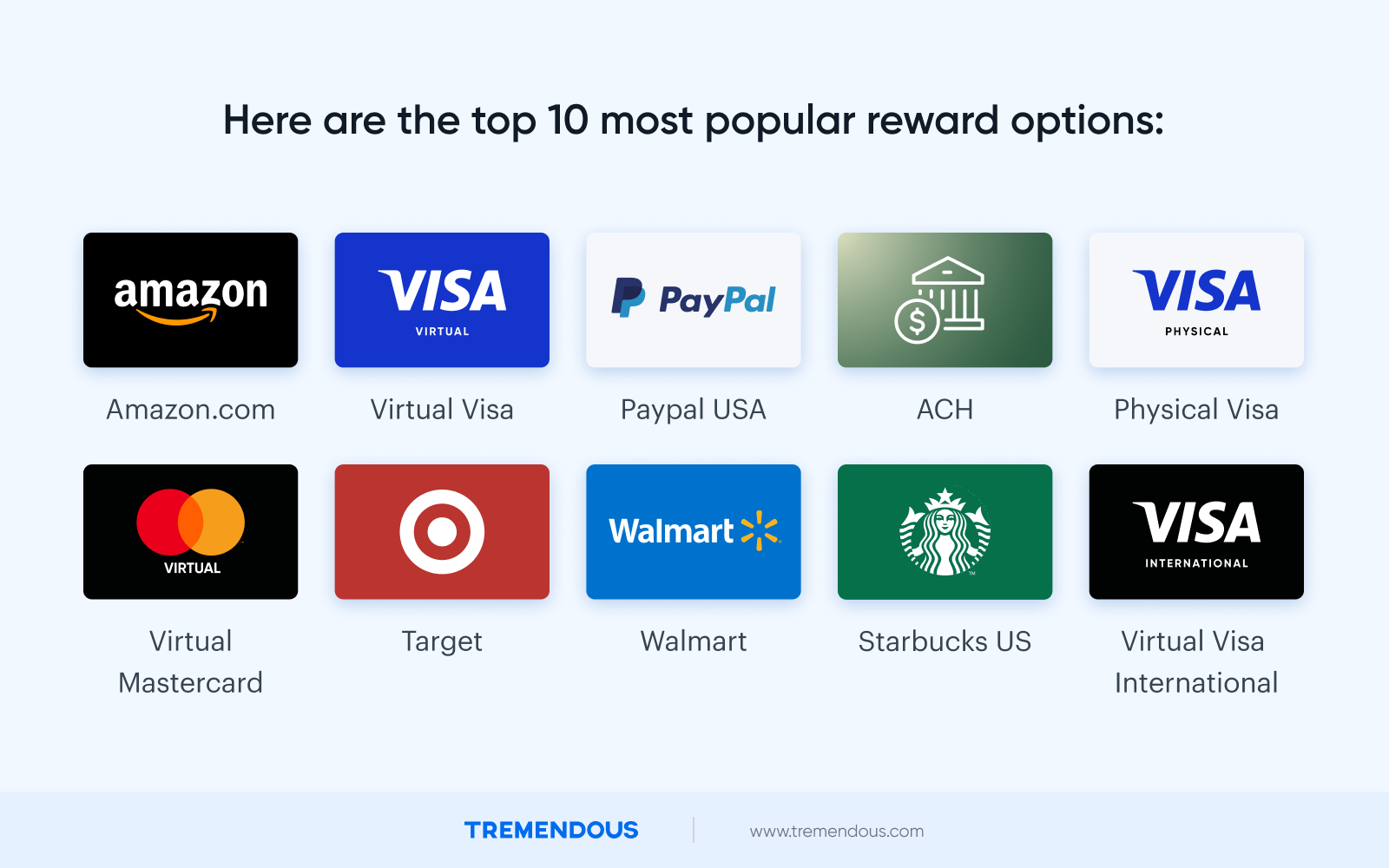 A lot of people love options. And they also love a good frappuccino. 
But there's also some intriguingly specific ways people redeem their payments. 
Among them, gift cards for the following retailers:
Nintendo Spain

Itunes FR 

Champney's

Spotify AUD

BeyondMeat

Royal Caribbean by Inspire

Buffalo Wild Wings Philippines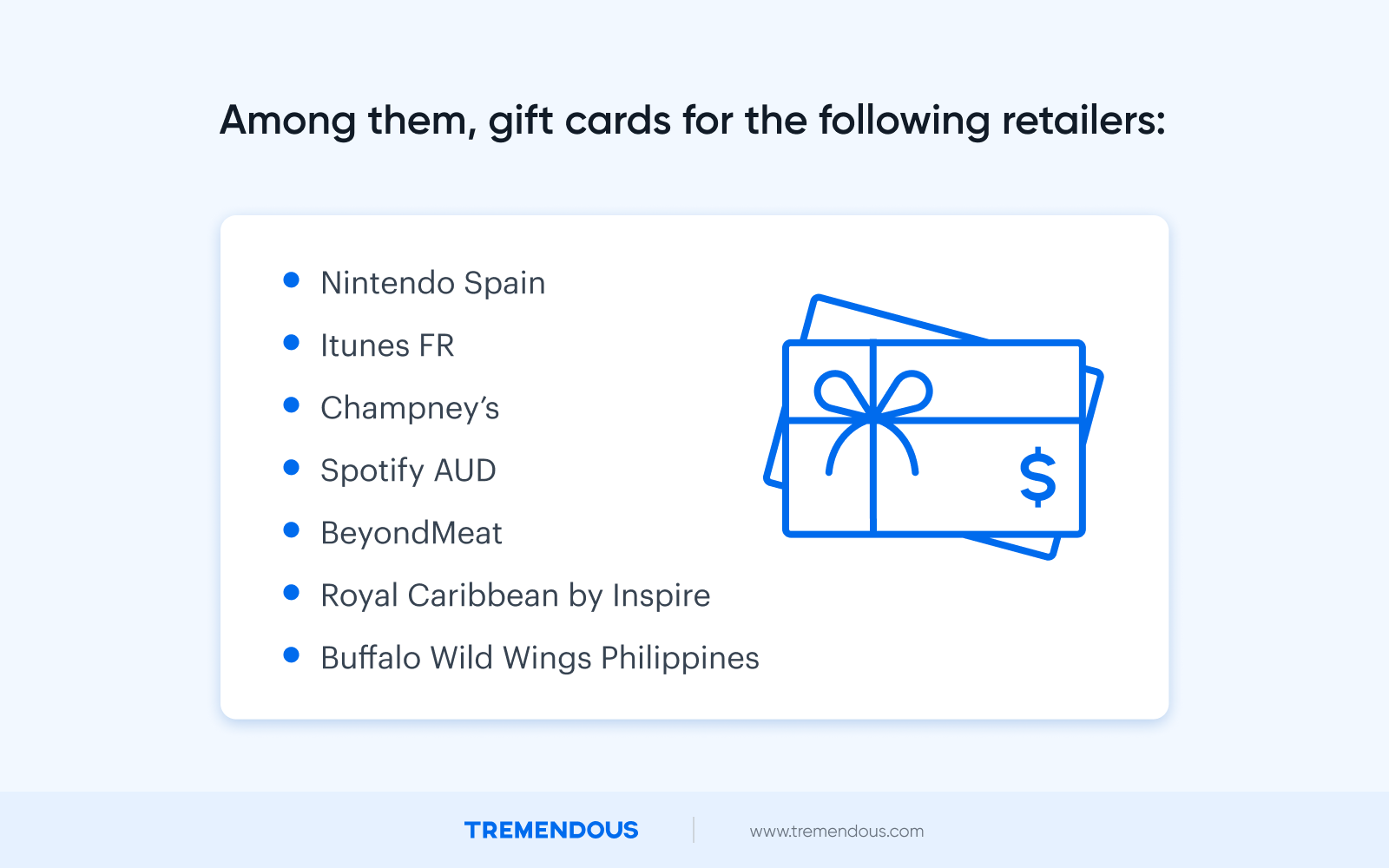 Personally, we're thrilled Buffalo Wild Wings made the list. 
This is just a smattering of the 850+ redemption options we offer. It's important to us that people have the freedom to cash out however they want. 
How these rewards have helped the world go 'round
We support businesses trying to build better products, hoping to make employees feel valued, and sending thank-yous to loyal customers. 
But we've also helped organizations like United Way distribute $480k in payments to grocery store employees, as part of the Grocery Worker's Appreciation Fund. 
These $250 Visa prepaid cards help grocery workers with stuff like medical bills and car repairs. 
A top research university used Tremendous to send millions to over 30k recipients spread across more than 40 countries as part of its far-reaching clinical research. 
Creative Consumer Research slashed the cost of incentives by around 20% after switching to Tremendous. And Atlassian used Tremendous to pay over 10,000 research participants across 109 countries for their time. 
That's to say nothing of the socially-conscious recipients who have redeemed their payments in the form of charitable donations. 
All in all, people are spending a lot of money to make the world a better place. 
Thanks for everything. We're excited to do more. 
We're a team of almost 70 spanning 3 continents.  And we're hiring. 
And we're grateful that you trust us to make paying people way easier and faster so you can focus on what you do best. We are so excited to keep growing with you.
Published March 23, 2023
Updated April 13, 2023