Australian software giant Atlassian, maker of Confluence, Jira, and Trello, recruits thousands of global volunteers each year to perform user experience and market research. To compensate and thank participants for their time, the company needed a simple, scalable way to pay people worldwide. After using Tremendous for several years, the Atlassian team says it can't imagine life without Tremendous.
"We use a lot of different tools in our work," said Sarit Geertjes, research operations manager. "I've always thought, 'Why can't they be more like Tremendous?'"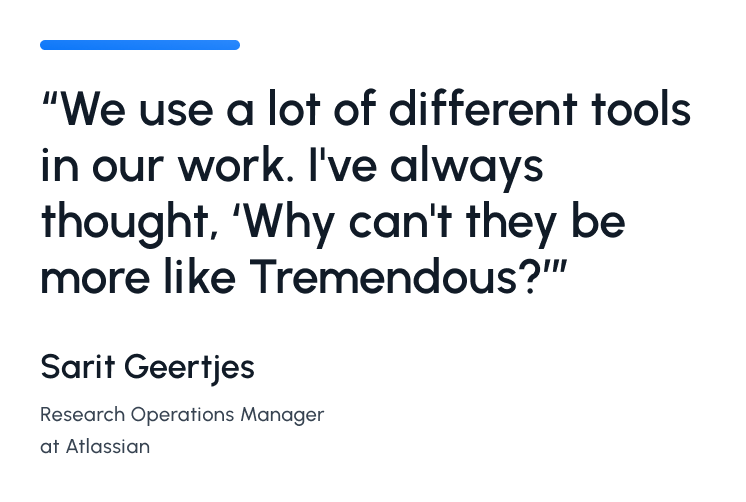 Challenge
A sprawling (and growing) group of Atlassian employees conduct research with participants across the globe. Sarit and her team are tasked with bringing standardization and process-driven solutions that simplify and enable research across the company. The challenge: managing all of those payments, to different countries, with a fast-expanding team, and keeping it all simple.
Large research team: Sarit and her research operations team support hundreds—600 and counting—of researchers, designers, project managers (PMs), and product marketing managers (PMMs) across the company. They perform both customer experience (CX) research on the company's many software titles and market research on a wide range of business themes.

Various forms of research: Researchers recruit volunteers across the globe to take part in interviews, typically an hour-long Zoom call. They periodically conduct diary studies, longitudinal studies, quantitative surveys and other types of research.

Many payout options: Researchers compensate participants for their time by sending a thank-you gift worth around $100. Sarit and her research operations team receive and process those compensation requests daily. Sometimes that means sending cash to someone in Australia or the U.S. Other times they want prepaid cards or gift cards that work in India, or Europe.

Unknown recipient location: Complicating things further, researchers often don't know where the volunteer lives. They collect a name and an email address and send that to the research services team to fulfill the promised reward.
"Our needs are wide-ranging and growing," says Sarit. "The research isn't slowing down—quite the opposite—so we need software that can scale with us."
Solution
As Atlassian matured, the research operations team outgrew their existing vendor, which handled participant recruitment and distribution of thank-you gifts. Atlassian decided not to renew the contract in 2018, and they began looking for an alternative.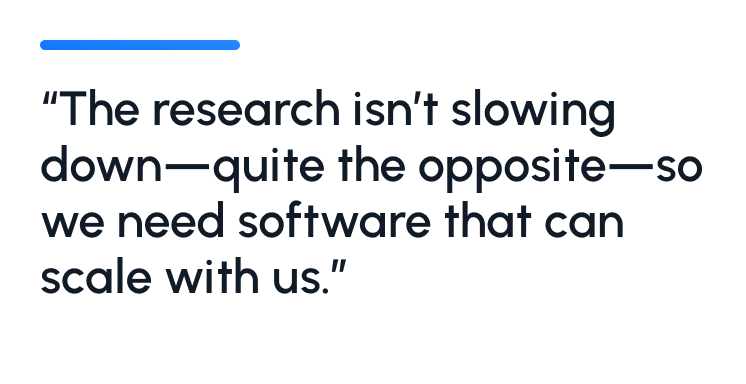 When it came to picking software to manage rewards for the company's expanding global research, the team set high expectations.
"It had to be simple," says Sarit, "and it had to be painless."
The Atlassian team needed a solution that could:
scale alongside its research organization;

distribute thank-you payouts to participants across the globe regardless of their location;

allow researchers to tailor the participant's compensation, whether that be a gift card, charitable donation or cash; and

offer a simple, flexible platform to manage participant gifts, invoices and reward tracking.
"We didn't want to get lost in endless spreadsheets or toggle through a million windows to get it to do what we wanted," says Sarit.
Atlassian's search for a payouts provider began by word of mouth. Kate Towsey, Atlassian's research operations manager and co-founder of the ResearchOps community, asked her peers at other companies for vendor recommendations. A friend at Spotify spoke highly of using Tremendous to send and track rewards for its internal research. (Spotify has used Tremendous since March 2018.)
Results
Since late 2018, Atlassian has used Tremendous to distribute:
The team says it's hard to imagine life without Tremendous.
"I truly love Tremendous," says Ana Stanojevic, a procurement officer responsible for selecting and managing software vendors for Atlassian. "It's extremely simple to use."
Vital infrastructure to Atlassian's sprawling research operation
Sarit and her team must build, refine and maintain the processes, vendor relationships and guidelines that enable Atlassian employees to conduct value-add research, adhere to laws and regulations around privacy and consent, and execute everything without a lot of hand-holding.

"Because we've had this startup culture for a very long time, people are used to doing their own thing and asking for forgiveness," Sarit said. "Now that we're a large company, we just can't do that anymore. There's so many things we need to think about."
Sarit's team is creating an educational program and step-by-step guides on doing self-service research. One area that's been painless: sending thank-you payouts to research participants via Tremendous.
Flexible payout options tailored to recipient location and project needs
Tremendous allows Atlassian researchers to tailor thank-you payouts by setting any denomination and allowing recipients to select between a variety of redemption options—all in a few clicks.
Using the recipient's IP address, Tremendous identifies their location and automatically generates a list of country-relevant redemption options for them to choose from in their local currency.

Atlassian uses a wide variety of payout options, including ACH, PayPal, virtual prepaid cards, gift cards, and charity donations.
All of that ease saves her team time that they can devote to supporting researchers in other ways.
"All I do is enter a name, email address and the amount of the reward," Sarit says. "I don't have to figure out where the participant lives, or deal with currency conversions, or figure out what rewards work for what countries—because Tremendous does all of that for us."
Robust tracking and white-glove customer service
On the back end, Ana is responsible for invoicing, tracking payments and pulling custom reports to monitor the company's research spend across dozens of studies happening simultaneously.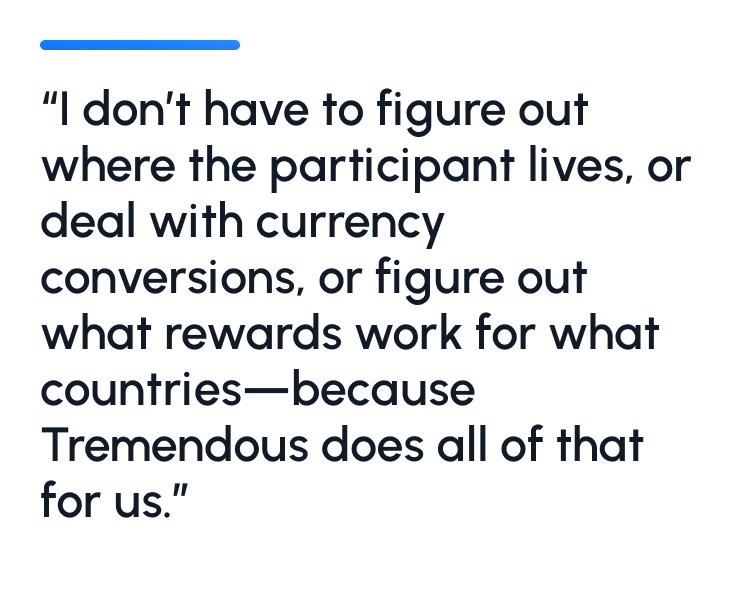 "Other vendors do all the invoice and report-pulling in the back end and send it to their clients," says Ana. "With Tremendous, I can independently go in and pull what I need. There's no blockers. That's really crucial to my role."
The team is also impressed with the level of service they've gotten from the Tremendous team, which has worked with Atlassian to add new features they requested.
One such request was the ability to offer charitable donations to participants who preferred giving back to receiving a reward themselves. Tremendous added that option in 2018 — and researchers throughout the company now take advantage of it for their projects.