When United Way Worldwide and Kendall-Jackson Winery partnered in Oct. 2020 to distribute $2 million over 10 years to grocery workers, they wanted to get money to as many people as possible before Thanksgiving. United Way tapped Tremendous to get the payouts sent across the United States in short order.
The program received hundreds of applications, and United Way 211 Director Josh Pedersen remembers "working incredibly late that Tuesday night to finalize the application process and make sure everyone got it."
"Once we completed the vetting and verification of the awards, it took a matter of minutes," Josh said. "We uploaded it into the system, and people received the funds via text message or via email through Tremendous. That turnaround for us was incredible."
To date, the Grocery Worker's Appreciation Fund has distributed $482,000 to more than 1,900 individuals in all 50 states—via physical and virtual Visa prepaid cards administered from the Tremendous platform.
"Tremendous provides us with a risk-free, confident approach to distributing awards and gift cards to those who need it, in an efficient, timely, and nimble way," said Josh, who helps administer the fund for United Way.
Challenge
Every month workers apply to receive a $250 Visa prepaid card to help with things like medical bills and car repairs. Figuring out a fast, nimble and secure way to distribute these funds was the challenge presented to Josh's team.
"Being able to provide a quick, responsive reward to them is important," Josh said. "The grocery workers we're distributing to are often using these rewards to pay for basic needs like childcare, medical bills, or transportation. It's very supportive of their family life."
Josh has vast experience with providing disaster relief. He directed United Way 211 during Hurricane Florence and helped distribute money to victims of Katrina, wildfires in the West, and tornadoes in the Midwest. But in all of those past disasters, he'd either mailed checks or handed out physical gift cards to people in one location.
For the grocery fund, United Way would be tasked with distributing payments across the country, quickly, and amid a global pandemic—that meant offering an option for a digital payment was vital.
Solution
The team searched for an all-in-one solution for digital and physical payouts. The ideal solution would check a lot of boxes.
"It had to be nimble and something that we could easily activate in a consistent fashion across the entire United States," said Josh.  "Every 30-60 days we're processing another set of awards, so a lot needs to happen quickly."
Quick to scale – United Way needed to deploy rewards as fast as possible to as many people as possible. Speed and ease of use was key.

Flexible – The solution also had to be flexible—capable of distributing both physical and digital payments, depending on the recipient's preference.

Secure – Protection from fraud, theft and data breaches was vital.

Responsive – The ideal solution would offer excellent customer service, too. Josh's team wouldn't get bogged down with customer service calls and inquiries, which happen in any program at this scale.

Trusted – To remain a good steward of the program to donors and recipients, the trust United Way could put into its partner was vital, Josh said. One of the best ways to maintain that trust is to have a reliable and transparent reporting system.
"United Way's brand is a trusted brand across the world," said Josh. "Forbes ranks us up there with Nike and other international brands. That's something very important to us to maintain."
Results
United Way and Kendall-Jackson Winery launched the Grocery Worker's Appreciation Fund in October 2020 and partnered with Tremendous to handle all aspects of distributing rewards.
The program launched quickly, sending out money to hundreds of people in the first few weeks, in time for Thanksgiving. Overall, the program has distributed $482,000 to nearly 2,000 workers across the U.S.
About four in 10 recipients choose to receive their award electronically, and the rest choose to receive a physical card in the mail. If there's a typo or some other error along the way—as happens with a program of this magnitude—Tremendous helps resolve it.
"Deploying a program virtually across the U.S. is something Tremendous has allowed us to do with ease," said Josh.
Payouts administered nationwide—in minutes
How it works: Each month workers apply to the fund, and Josh's team helps select and then vet the recipients. Then they use Tremendous to distribute the money.
"People can receive their awards in a matter of minutes via text message or email from Tremendous," Josh said. "The process is simple. It's hands-free."
The speed of digital payments has been a winning feature of the program.
"There's no lengthy administrative process for people once they've been vetted," Josh said. "They don't have to wait for a bank to open to pick up their reward. They don't have to wait for them to arrive in the mail, if they'd rather get it now."
For those that prefer a physical Visa card, the option is available, too.
A partnership built on trust, security and customer service
The system also helps United Way manage its risk, because it tracks every payment in one easy system.
"It's incredibly simple to administer," Josh said. "We can do a mass distribution across the U.S. to any community, and to individuals when they need it. And we have confidence because it's a trusted process and accountable system."
Sending payouts to grocery workers has been a secure, seamless system with Tremendous, Josh said. There's been no fraud or data breaches.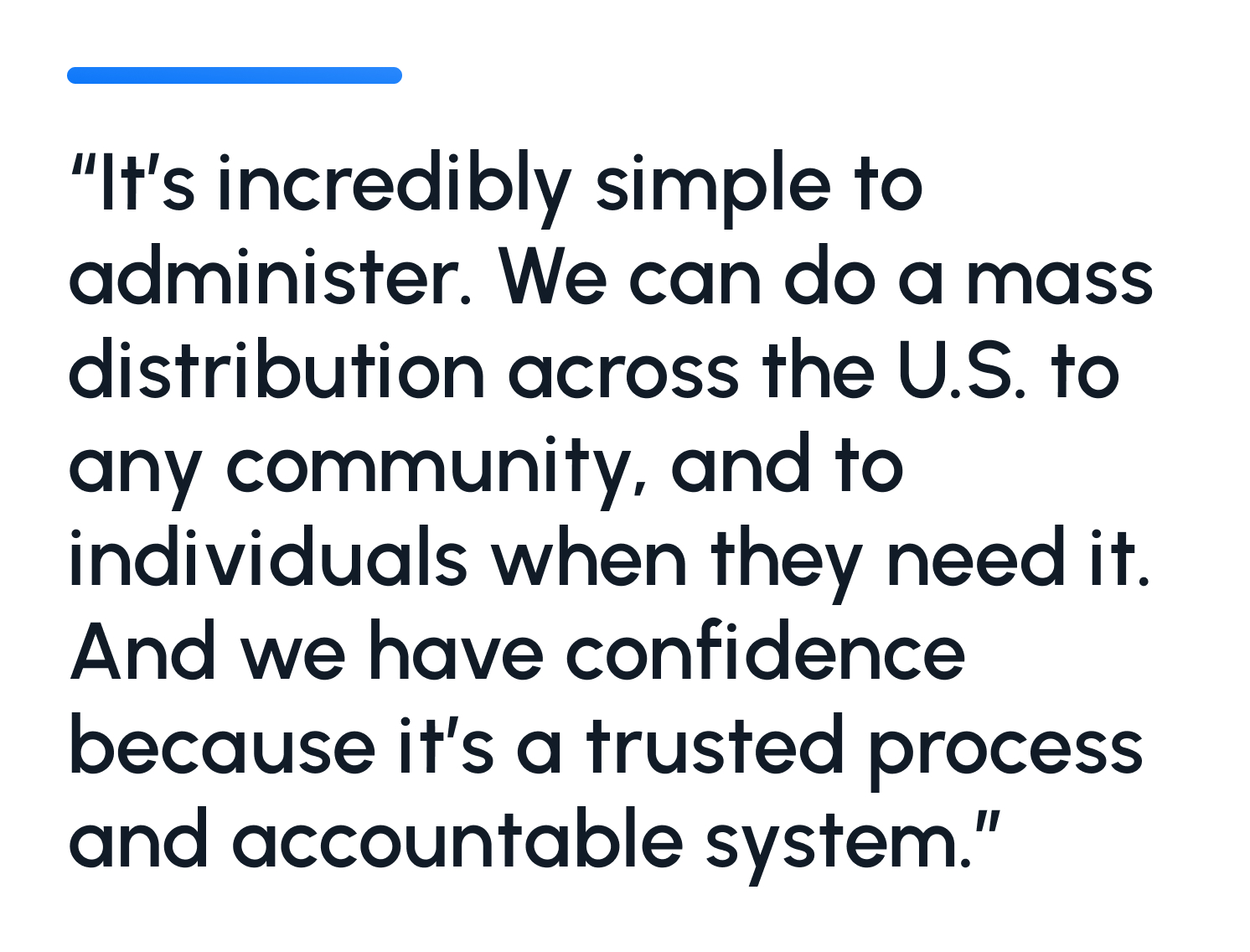 "When doing assistance administration — whether it's via gift card or check or digitally — the biggest concern is the risk involved," Josh said. "We want to be sure the payments get to the people they're supposed to go to, and that we can account for that."
In the rare instance that a name or email address is entered incorrectly, or when a recipient has a question, Josh and his team have found comfort in relying on Tremendous.
"Tremendous has demonstrated over the course of this that they are a trusted partner," he said. "They've provided excellent customer to us and to grocery workers calling in asking for support. That trust and attention to customers has shown through."
For Josh's team, that means no time wasted tracking down payouts or re-issuing cards. Tremendous can see if it's been redeemed or not and resolve most issues the same day.
"Having a good paper trail in place of where gift cards were distributed to, who they were distributed to is something that has been a real support for our team because it's very important to be accountable to our donors," he said.
——
P.S. — Does your company want to support the Grocery Worker's Appreciation Fund? United Way and Kendall-Jackson Winery are always interested to hear from potential new partners.