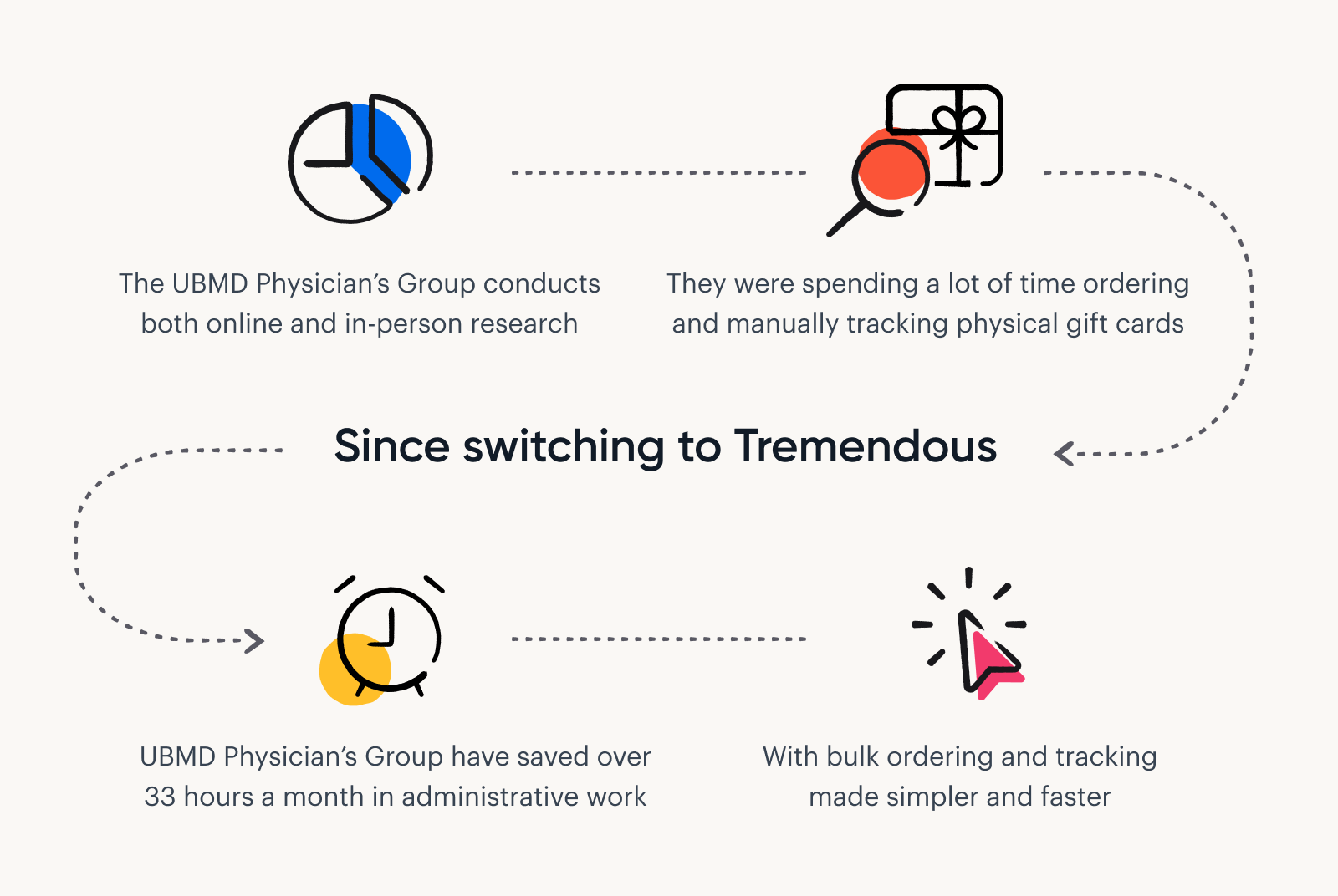 The highlight reel
→ The UBMD Physician's Group conducts both online surveys and in-person neuropsychological testing for populations with multiple sclerosis, paying participants anywhere from $20-$100 for their time.
→ Switching from ordering physical gift cards in bulk to sending incentives with Tremendous saved researchers over 33 hours a month in administrative work, and significantly reduced the time they spend tracking down information to report to IRBs.
→"Everything became 100 times easier. And everything's stored in a central database, so I know who was compensated, how much, if they received it — all that."
The problem
Michael Jaworski III is a clinical research coordinator at the University at Buffalo Medical (UBMD) Physician's Group (the lab's technical name is UBMD Neurology, Division of Neuropsychology). For the past few years, he's been facilitating both online surveys and in-person neuropsychological testing for patients with multiple sclerosis. As part of this research, he needs to send incentives to more than 100 participants every month.
For a long time, UBMD researchers manually ordered physical gift cards in bulk, then sent them out to research participants individually. Sending incentives by mail took between 10 to 20 minutes per participant.
"One of our biggest studies we had was an online survey," said Michael. "Every time someone completed the survey, we'd have to mail them the gift card. So once we confirmed they completed the survey, we had to write their address down on an envelope, go to the post office, get stamps, have it sent — that all takes time."
And that's to say nothing of the time it took to track and audit what was sent, and reporting that information back to institutional review boards (IRBs)
"Every month, we had to manually audit all participant and incentive information we'd written down in this book — what was sent, when we sent it — and review that information. We had to report that back to IRBs, and that took time, too."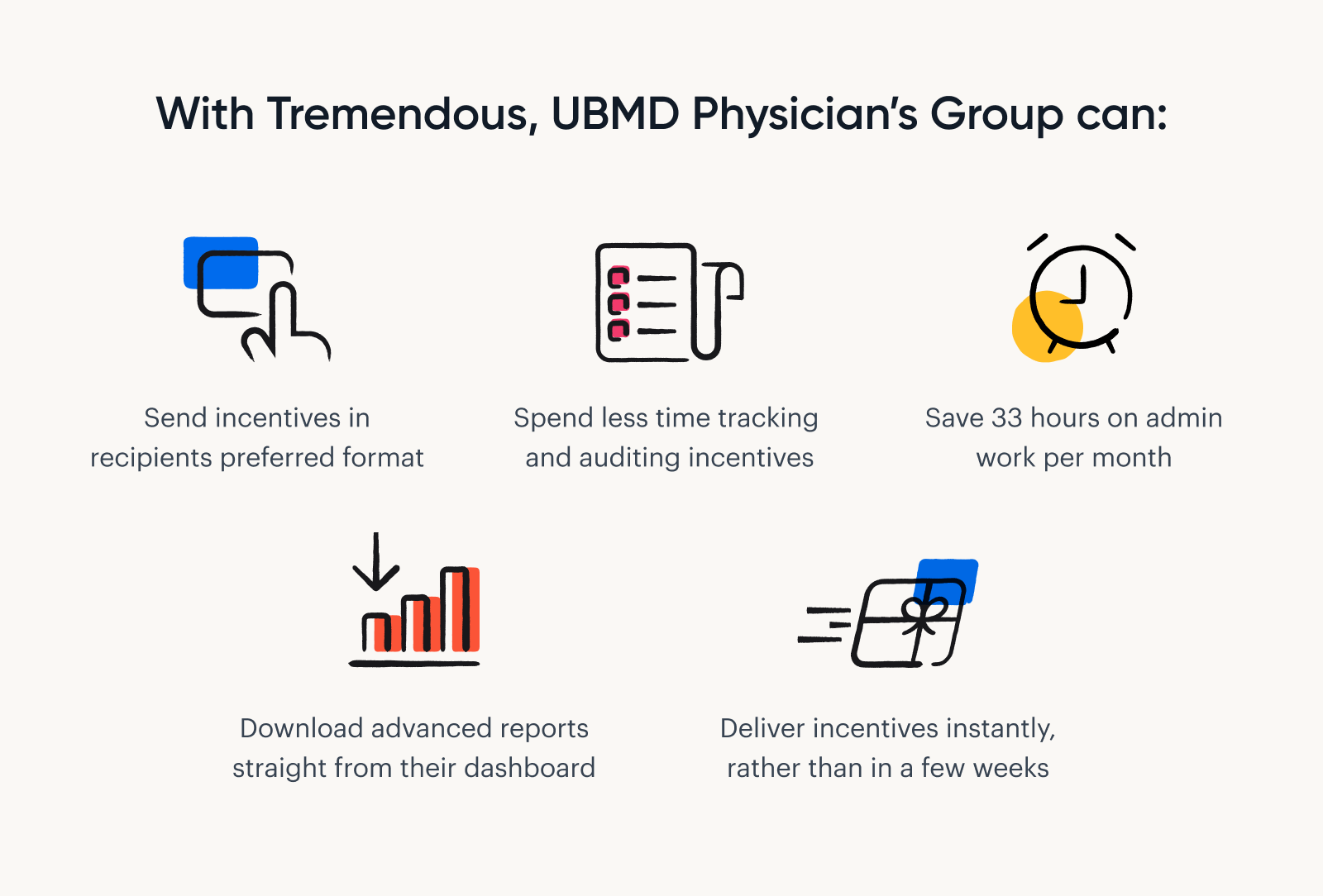 The fix
With Tremendous, UBMD Physician's Group:
Sends incentives in whatever format their recipients prefer — whether that's via email, text, or in the form of a physical gift card mailed to their residence.

Spends way less time tracking and auditing their incentives to satisfy IRB requirements. Instead, they can just download advanced reports straight from their dashboard to show the IRB how much they've sent, where the incentives have gone, and whether they've been delivered.

Saves 33 hours on administrative work per month.

Delivers incentives instantly, rather than in a few weeks.
Participants choose how they receive their incentive. And they get it fast.
When UBMD Physician's Group switched to Tremendous in 2021, "everything became 100 times easier," said Michael.
And it's not just easier for the research team — it's also easier and more convenient for research participants.
Instead of waiting days for gift cards to land in their mailbox, or weeks for checks to finally arrive, participants get their incentives immediately.
"After we switched, it was night and day," said Michael. "People love getting their incentive instantly, instead of in days to weeks."
"We can just send them a text message, and they can hit redeem," he added.
Older research participants who may not be as tech-savvy as their younger counterparts can also opt to receive their incentive as a physical Visa prepaid card.
"They can choose if they want a digital card, or if they want a physical card sent to them," said Michael. "It's good to know we have the option to send physical incentives directly to our older patients."
Researchers spend more time on research, and less time dealing with IRBs
Dealing with IRBs can be one of the more labor-intensive and tedious aspects of clinical research. Fortunately, Michael finds he's spending a lot less time auditing incentives and fulfilling IRB requirements these days.
Before UBMD Physician's Group used Tremendous, they maintained a record-keeping book. They'd manually write down how much they sent, to whom, and whether the recipient received the incentive. Then, they'd audit and review this book, and send this audit to the IRB.
"Now, because Tremendous tracks everything for us, all I need to do is send reports for how much was being sent. It makes it a lot simpler," said Michael. "It's less involvement with both the IRB and our finance team."
Tremendous automatically tracks incentives, and allows users to download advanced reports directly from the dashboard.
"It's so much easier," said Michael. "I've never gotten any pushback from the IRB."

The outcome
Since Switching to Tremendous, Michael estimates he's saved 33 hours per month on administrative tasks.
"We saved easily 10 to 20 minutes per gift card we sent after switching to Tremendous," he said. "And we'd have about 100 research participants per month for just this one survey. So, altogether, that's a significant amount of time just spent on paying people."
Automating incentives has made Michael's life a little easier. And having the option to send branded templates to research participants has made things less confusing for recipients.
"One of the things I really appreciate is how you can brand messages," said Michael. "Now, we can brand incentives as University of Buffalo, Department of Neurology. So it's no longer confusing for recipients. They know why they're getting the incentive, and who it's from."
Across the board, everything about sending, tracking, and redeeming incentives is faster for UBMD Physicians' Group.
"We really enjoy the simplicity. Both for us, and for our research participants."