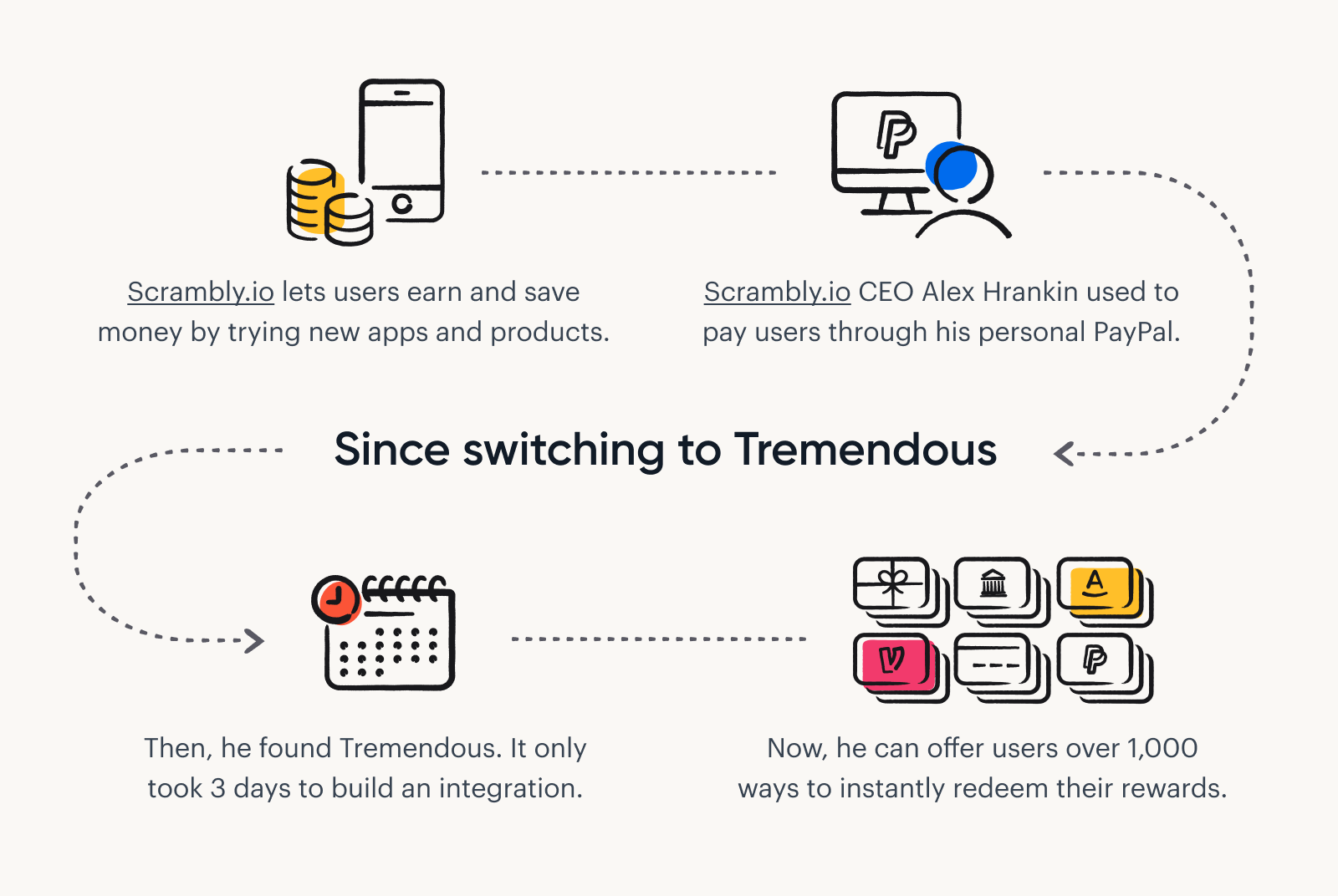 The highlight reel
→ Scrambly is a rewards platform that lets people earn and save money by discovering and testing new games, apps, and products. They needed an efficient and cost-effective way to send small amounts to their users.
→ Prior to switching to Tremendous, Scrambly CEO Alex Hrankin paid users through his personal PayPal.
→ Scrambly integrated with Tremendous quickly — it only took about 3 days. Now, they can reward users instantly, at scale.
→ And it's less expensive. Scrambly saved $30,000 in fees by switching over from paying directly through PayPal.
The problem
Scrambly is relatively new on the scene — the rewards platform launched last year.
Like any nascent entity, it took Scrambly a little while to jump through every regulatory hoop. They released some basic functionality and began acquiring users before they were incorporated.
Because they weren't yet an official business, they had a hard time finding integration partners. So they had to distribute rewards to their users manually.
"I was making payments straight from my personal PayPal," said Alex. "For two months — if you can imagine — I was making up to 500 payments a day from my personal PayPal. Up to $2,000 a day from my account."
Needless to say, it wasn't scalable.
"I was telling my CTO, I'm going to be broke," joked Alex. "It was hell."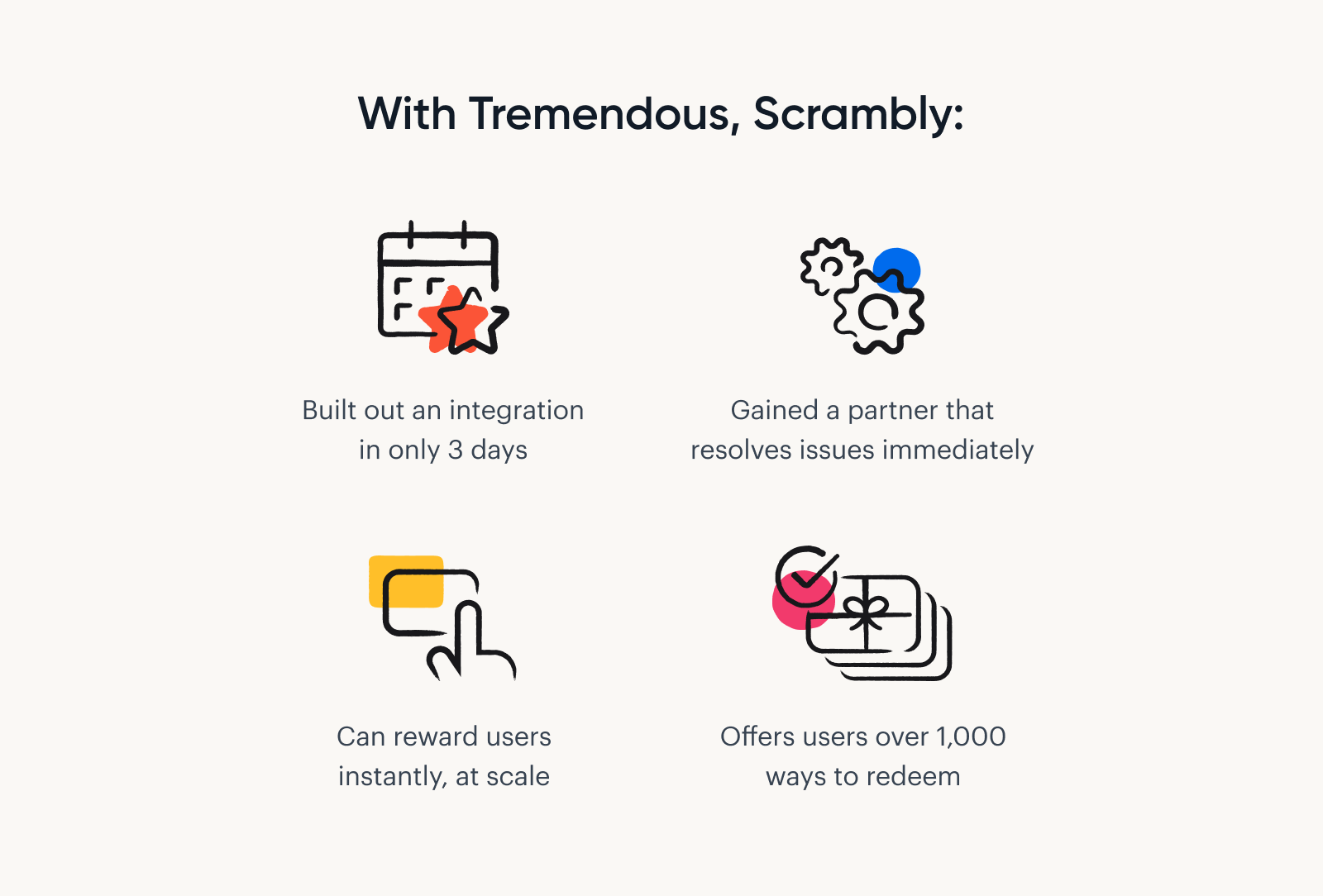 A simple integration, up and running in days — not weeks
Scrambly completed the process of incorporation eight weeks after launching. And that made them eligible to integrate with a rewards and payouts platform.
When it came time to choose an integration partner, Alex says it was a pretty easy decision.
"We looked at a couple other solutions," said Alex. "But when our CTO looked at the Tremendous API, he said it was structured really well. And that it would only take him a couple of days to implement."
The Tremendous API was built by developers, for developers. And this commitment to being developer-first comes through in the simple documentation.
"We knew we could implement it," said Illia Frantsevskyi, Scrambly cofounder & CTO.
As a fledgling startup, Scrambly is committed to making intentional decisions that deliver long-term value. The Tremendous integration met their very high standards.
"We're perfectionists, and we're very detail-focused," said Illia. "We wanted the most efficient solution."
Tremendous was easy to integrate. And really easy to activate.
"Once the integration was approved, we launched Tremendous the same evening."
The benefits of true partnership
Building the integration was just the beginning of Scrambly's partnership with Tremendous. Alex is in regular contact with members of the Tremendous team, and can trust any issues that crop up will be escalated and handled immediately.
"The way Tremendous deals with their customers, the way they communicate, how quickly they respond — it's top notch," said Alex.
Alex and the Scrambly team dislike the slower pace of larger, bureaucratic organizations. He didn't want to work with with a company that takes days to respond to problems, or requires several nudges to address issues.
"If there's an issue, I need it solved yesterday," said Alex. "I don't want to be talking about the same problem in a week. Tremendous resolves issues immediately."
Over 1,000 ways to reward, including monetary options
The simplicity of the integration process wasn't the only factor that drove Scrambly to go with Tremendous. Alex also loved the variety of options the platform could offer to users.
"The fact that Tremendous had PayPal — which is quite rare — that kind of made the decision," he said.
For Scrambly, it's also less expensive to use Tremendous to deliver rewards via PayPal than it was to use PayPal directly. The company has saved $30,000 in fees by switching from PayPal to Tremendous.
In addition to PayPal, Tremendous also allows users to redeem their reward as a bank transfer, a Venmo payout, or a wide selection of prepaid and gift cards covering over 200 countries.
"I was contacted by a few other potential partners, and they couldn't get anywhere near Tremendous, to be honest."
The outcome
Scrambly has grown considerably since their launch. They now have over 8 million monthly active users in the US.
And the vast majority are thrilled with their experience, as evidenced by the startup's overwhelmingly positive Trustpilot reviews.
"Users are very happy," said Alex.
Offering an excellent user experience is paramount for Scrambly — and with Tremendous, they can deliver payouts in minutes.
This is a big differentiator, given many of their competitors take weeks to pay out rewards.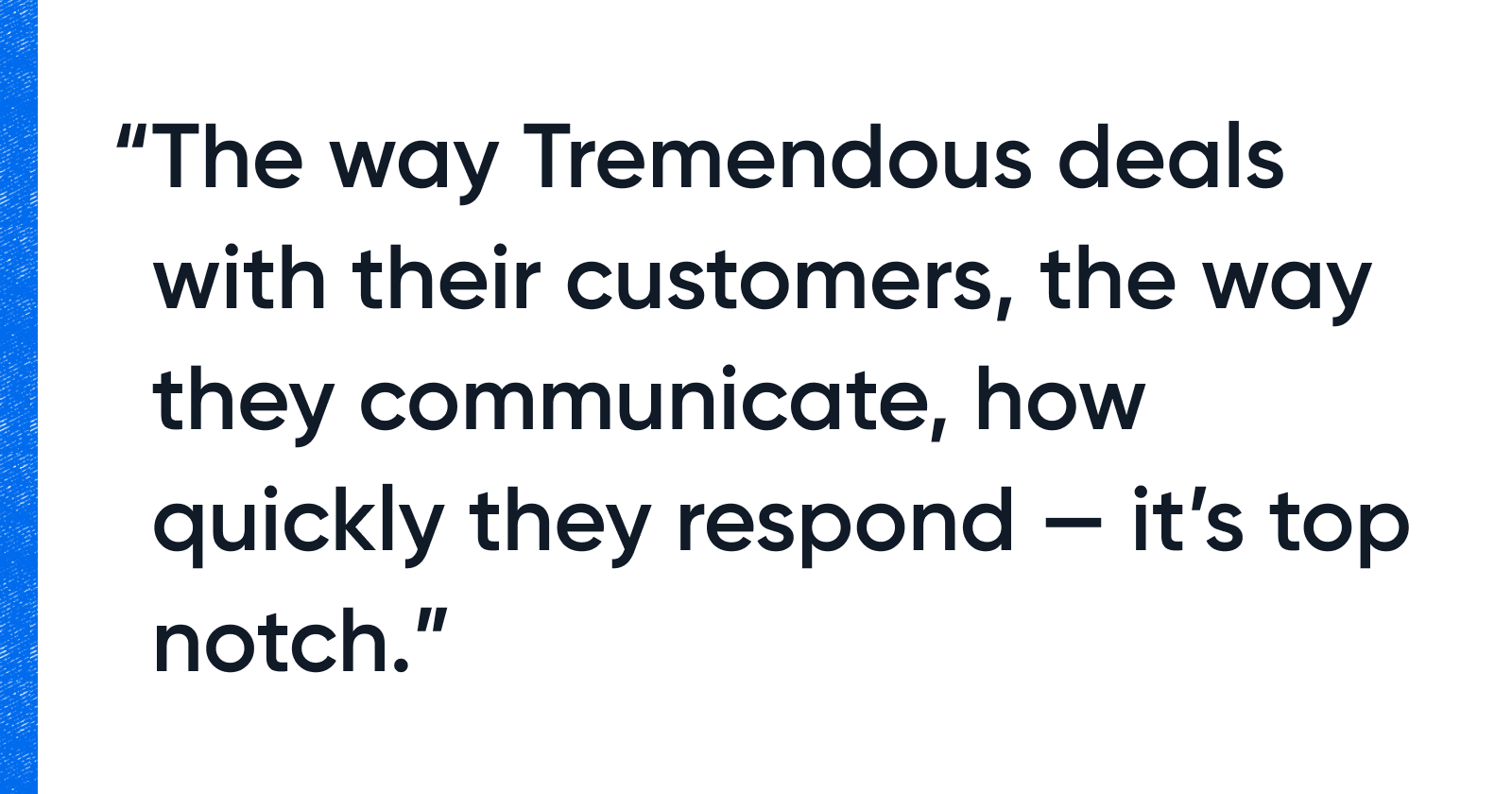 "With other platforms, the user would get paid in maybe 30 days. That's when they would actually get to redeem their points," said Alex. "But with us — if users earn a dollar, they can cash it out in five minutes."
Altogether, the seamless integration, responsive support, and clean user experience has helped Scrambly retain satisfied users month over month.
"We've never regretted partnering with Tremendous," said Illia. "Everything is working so well."