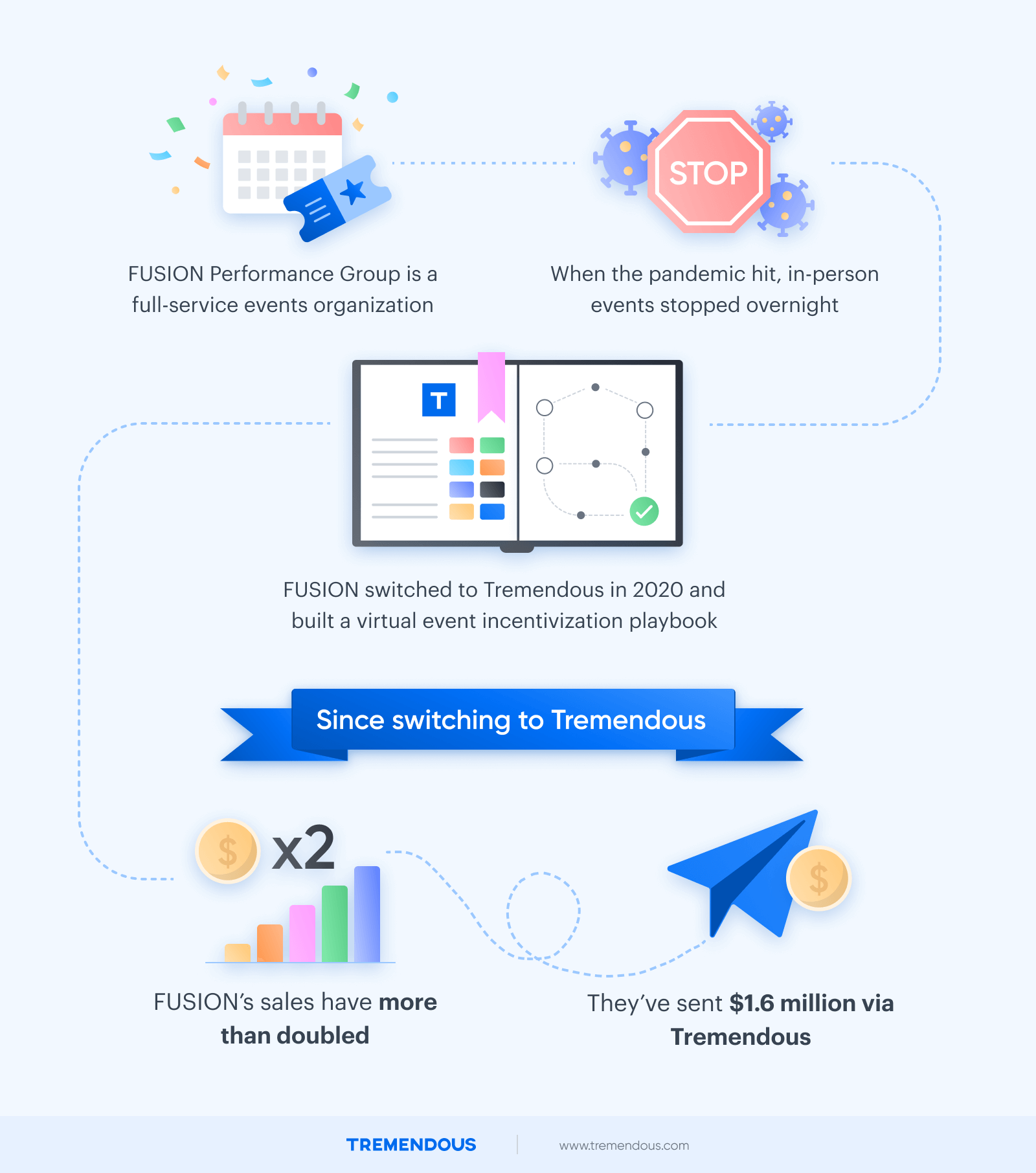 The company
FUSION Performance Group is a full-service events organization that both throws world-class events and provides sophisticated methods for measuring and improving ROI. 
FUSION employs an arsenal of tools to produce data, which fine-tune their strategies and improve an event's ROI.

For instance, they might use incentives to drive attendance. Or, they might administer a survey mid-presentation to reinforce learning.
The problem
When the pandemic hit, in-person events stopped overnight. FUSION had to translate the magic (and measurable experiences) from in-person to online. That presented a host of challenges:
A virtual event lacks the pomp and circumstance of something live. How do you drive attendance and enthusiasm?

How, logistically, do you host events in people's homes?

Distractions abound, how do you ensure people pay attention?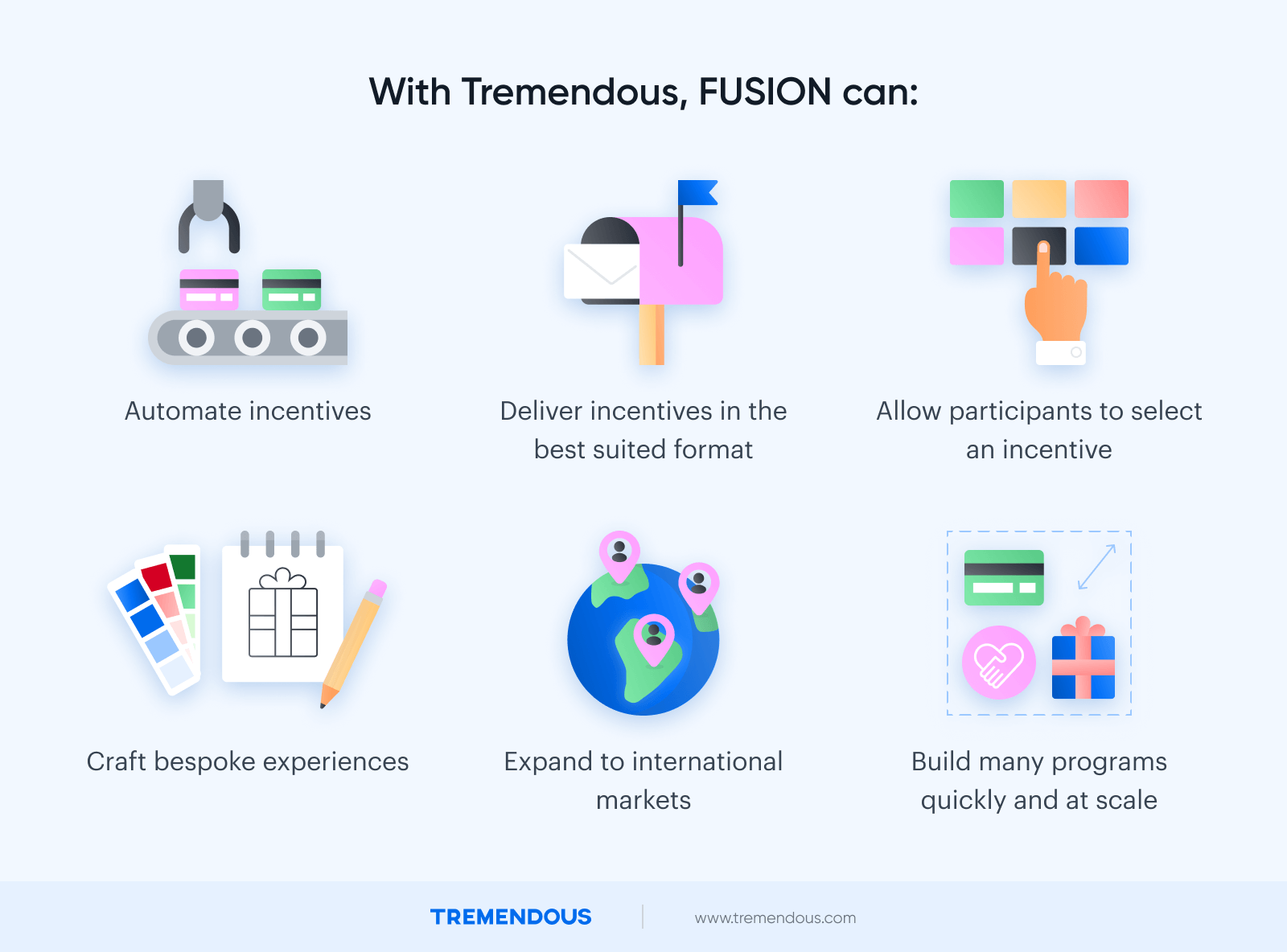 The fix
FUSION built a virtual event playbook, and Tremendous was key to its success. 
With Tremendous, FUSION can:
1. Automate incentives for event registrations, feedback surveys, and other routine processes.
"We can just order them within a few moment's notice, which hasn't been the case for some of our past vendors," said Lynn Davis-Hickman, IS & Resources Manager at FUSION Performance Group. "It's all automatic and easy."
2. Deliver incentives in the format best suited for the event, all while continuing to offer clients a custom-branded experience for their participants.
"It's seamless. It's so simple. The fact that we can simply add branding in just a matter of minutes and customize the message to the client and/or event, and then send gift cards directly to recipients or we can send the client a link, and they can send it to their customers, it just provides every single scenario that we want to offer our customers."
3. Allow participants to select an incentive they actually want.
"While the single-vendor gift card is great for a specific message (such as 'grab lunch on us'), the choose-your-own-experience has really become the most popular rather than just giving them a single vendor gift card," said Lynn. "They can even choose to make a donation if they want, or use that option if they can't accept the gift card for personal use. It's just a different experience because they can choose from 800-plus vendors."
4. Craft bespoke experiences with gift cards to specific vendors.
"We love to find a way to really customize the experience in the theme of the event. For example, in a recent western-themed event, everyone got a gift card to have a custom hat made. Clients still want to offer an experience, but stop giving away gifts no one wants."
5. Expand to international markets.
"We love the flexibility. For example, there are plenty of options for our international clients and recipients."
6. Build, change, and run many programs quickly and at scale.
"We want to send hundreds, even thousands of people incentives they'll actually use and appreciate in a matter of moments," she said. "Tremendous makes any problems with that disappear."
The outcome
Since switching to Tremendous in 2020:
1. FUSION's sales have more than doubled.
"It's very unusual for meetings and incentives companies to see their sales volume double when nobody's traveling," Lynn said.
2. They've sent $1.6 million via Tremendous.
3. As live events returned, FUSION continues to partner with Tremendous to send digital incentives.