Forsta is a user-friendly research technology used by more than 2,500 customers in 100+ countries, including eBay, DHL, Siemens, and Best Buy. Its human experience (HX) platform is built for professionals seeking rich insights into their customers, market, and audience.
Forsta offers its clients expert support, every step of the way. So when it came to incentives, Forsta wanted a modern incentive provider capable of adapting to whatever Forsta's clients threw its way. Multiple locations and currencies? Complex privacy requirements? No problem. With Tremendous, doing this – and more – is a breeze.
Since 2018, Forsta has used the Tremendous platform to send more than $2 million to 175,000 research participants in over 100+ countries. On average, Forsta sends incentives to 42 different countries per quarter.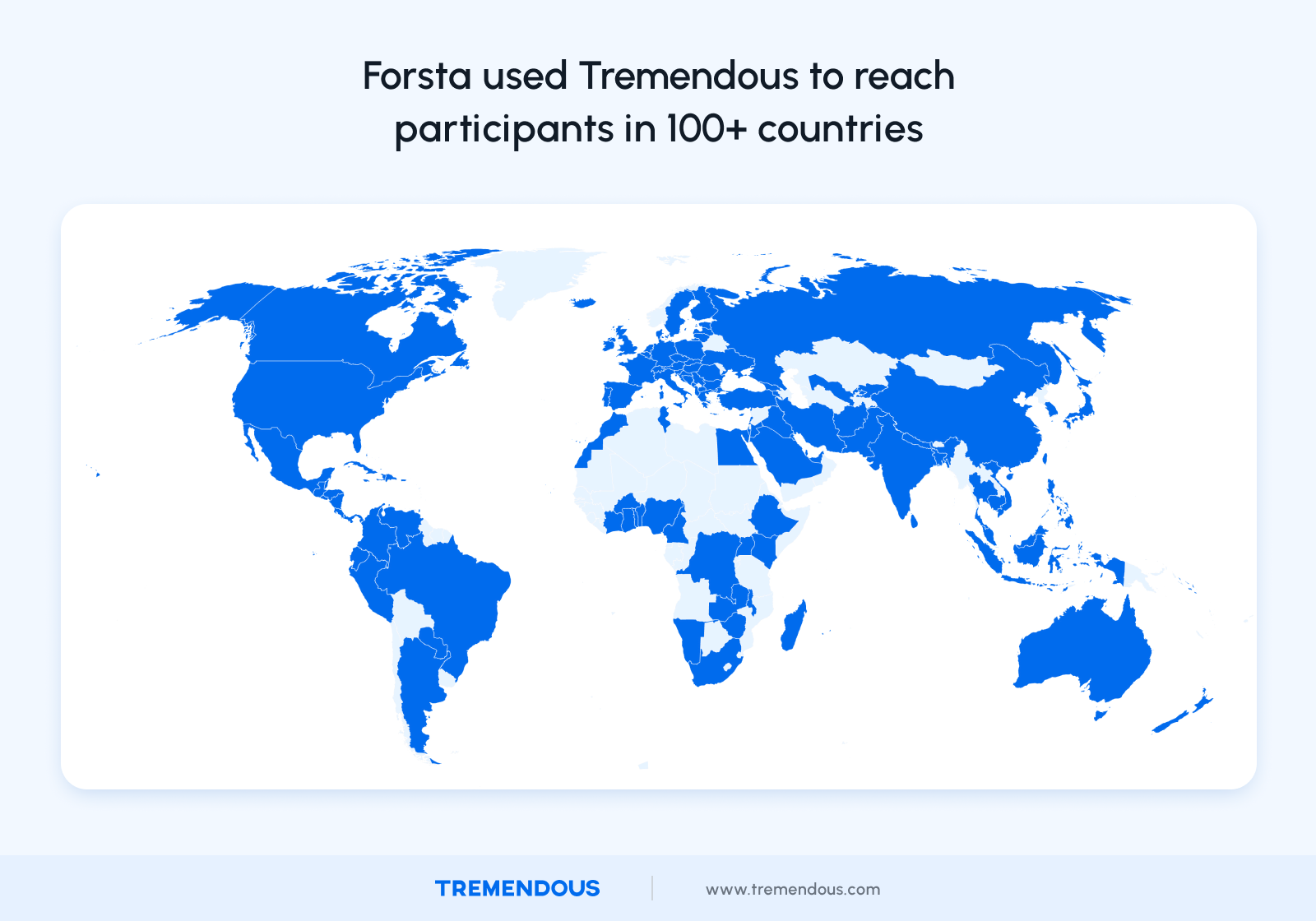 Sending global incentives presents a host of challenges. Namely:
Multiple geographies

Managing currency conversions and the choice of incentives en masse

International data privacy and security nuances
"With that level of complexity, we decided we needed a partner to focus on streamlining the incentive process, so that we could focus on what we do; providing the best technology platform." Manny said.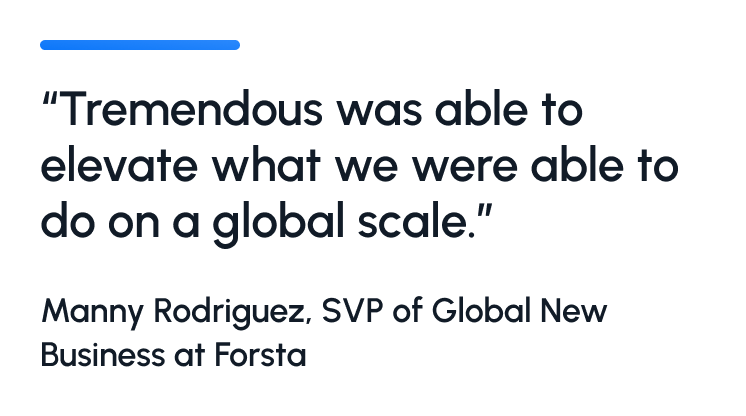 You can see how Tremendous helped Forsta achieve success in these two complex, international projects. They show how Tremendous can be implemented to incentivize research participants. This case study is based off a presentation given by Manny Rodriguez and Nick Baum, CEO of Tremendous, at Quirk's NYC event 2022.
Project 1 - Incentivizing while protecting customer privacy
An enterprise fintech company engaged Forsta to conduct customer research on their SMB segment with the goal of discovering new product opportunities for those customers.
Challenge
The client was particularly concerned about protecting its customers' personally identifiable information (PII). This meant that no third party, including Tremendous, could have access to the participants' PII. In addition, the client wanted to fulfill incentives post-field via a link in a client-branded email.
Solution
Forsta used Tremendous' bulk link export, which allowed them to assign a link to each recipient directly in the client's branded emails.

Because the reward is fulfilled by link directly to the purchaser, Tremendous doesn't have any of the participant's PII — checking off that requirement.

Tremendous' system geolocates recipients based on their IP address, so Forsta didn't have to worry about where the participant was located. They paid the face-value cost of the incentive, and Tremendous offered recipients the incentive in the appropriate currency.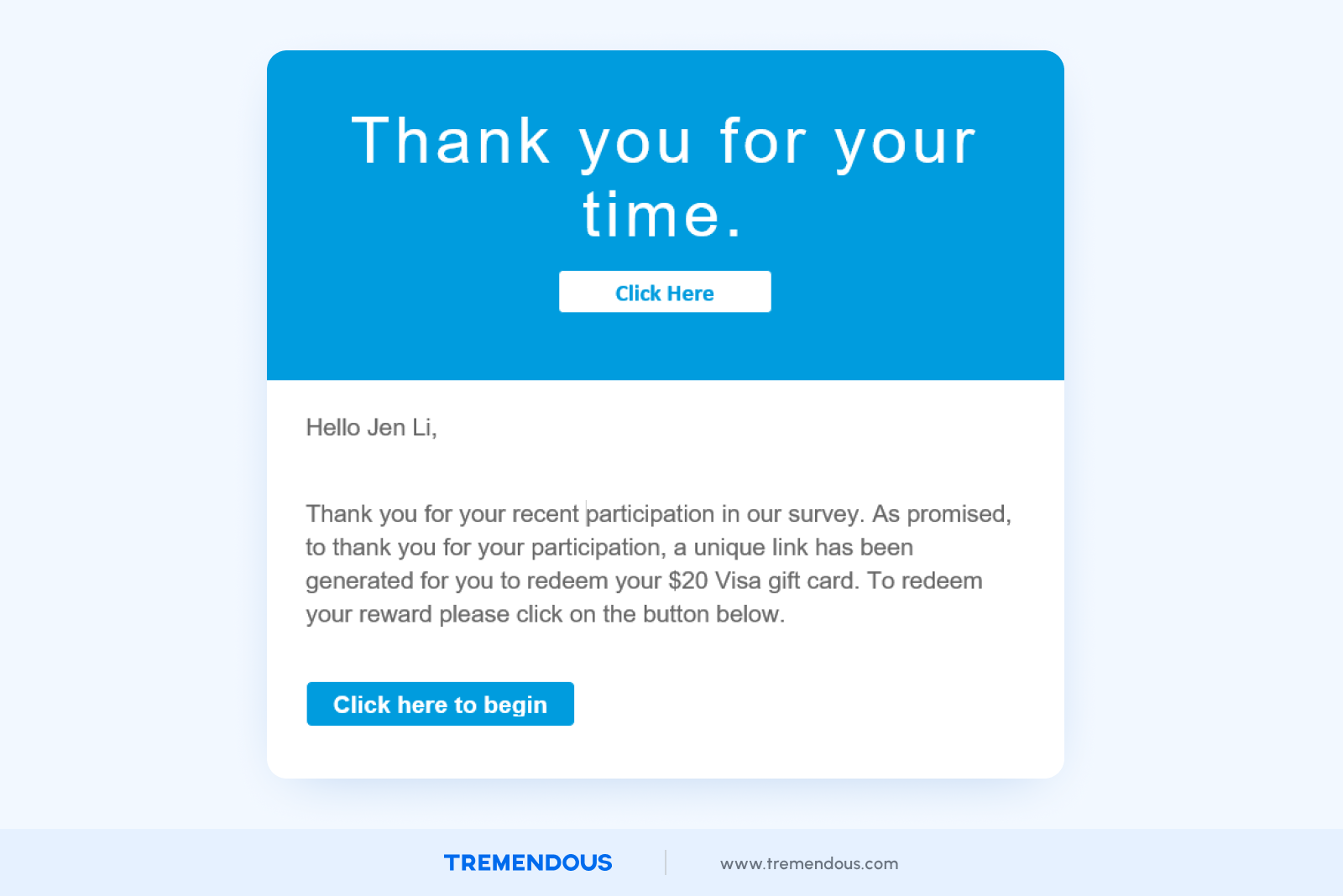 "Tremendous' tools also give us an extra layer of protection," says Manny, "You can set dollar amount limits for campaigns, so if a bad actor gets into a survey, your losses are capped." He continues, "We can also set an approvals workflow. This allows our project managers to approve or reject individual incentive distributions."
Results
"We anticipated this would be a difficult-to-engage group of small business owners based on previous research to similar users," said Manny. "The ability to offer incentives to these participants while working within the constraints of the client made all the difference."
Forsta's campaign was a smashing success.
On average, survey response rates across all markets are less than 3%.

For this project, response rates were 30-34%.
"Without the ability to quickly, nimbly administer incentives, we would have struggled to field," he said.
Forsta's client was so pleased with the research that they commissioned additional research with Forsta. Since this project, the incentive-averse client has opted to use research incentives more often.
Project 2: Multi-spec survey posed a logistical challenge
An enterprise networking platform wanted to conduct a survey targeting 24,000 respondents across three of its brands, targeting three different customer segments (advertisers, businesses, and creators), and located in 10 different markets. A heavy lift!
Project specs
No. of completes: 24,000 respondents

3 audiences: Advertisers, businesses, and creators

3 brands

10 markets, including hard-to-reach areas like Indonesia, India, Thailand, the Philippines

Time frame to completion: 12 weeks

Incentives offered: gift cards, prepaid cards (Visa, Mastercard), PayPal
Challenge
A tight budget meant the client wanted to offer the least-possible incentive that would still achieve the desired number of completions. And to add to the challenge, the 10 target markets included hard-to-reach areas such as Indonesia, India, Thailand, and the Philippines.
Finally, the survey consisted of complex question types, and it was geared toward three separate audiences, for three brands, in 10 countries. Finding a scheme to control costs made the project even more difficult.
Solution
Forsta sent the survey in three waves, each lasting 3-4 weeks.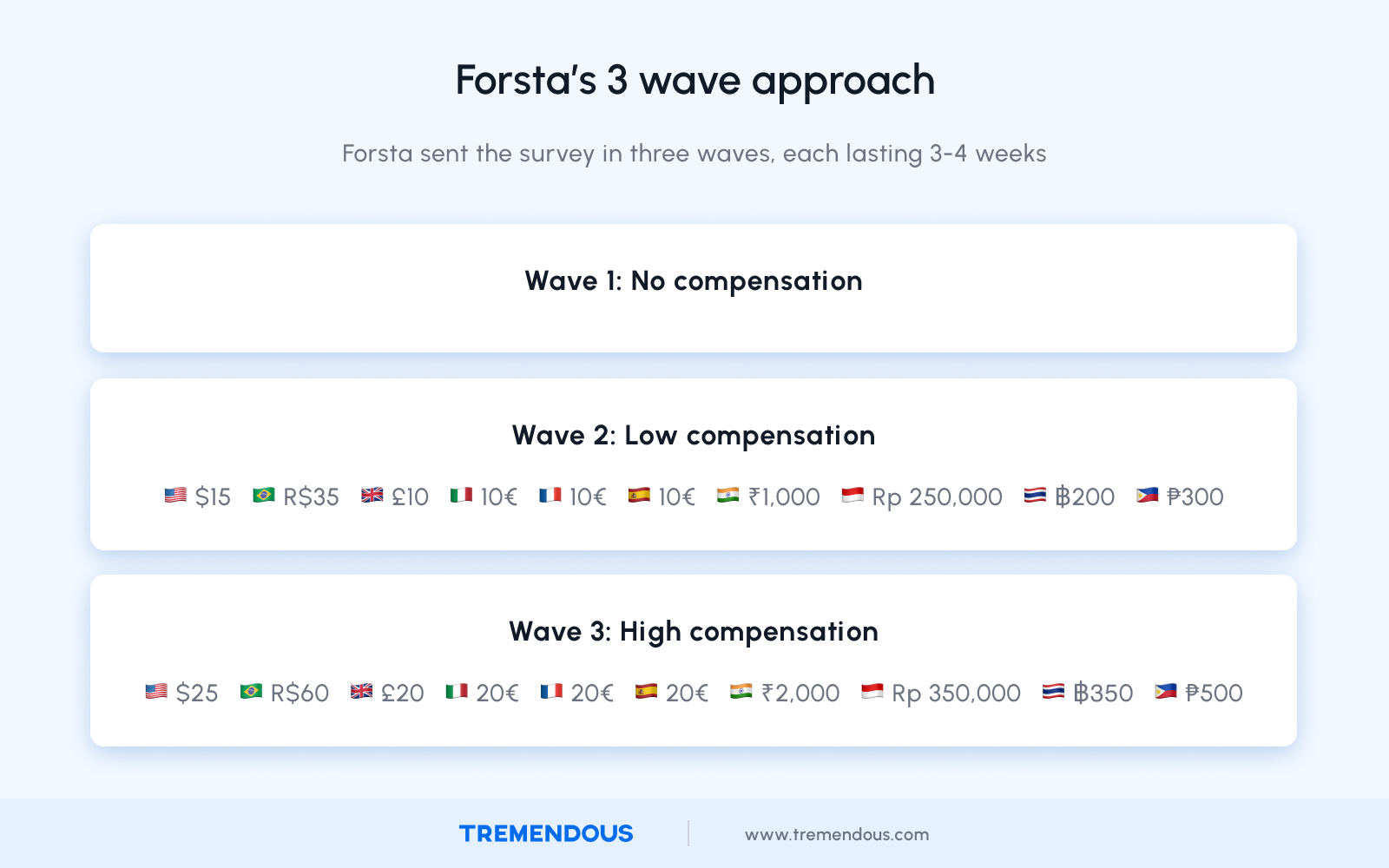 Forsta used Tremendous' integration with their research platform (formerly called Decipher) to automate the distribution of incentives in real time.
The Tremendous platform identified the recipient's location and tailored the currency and incentive amount automatically. Depending on the participant's location, they were given a selection of redemption options tailored to their locality, including: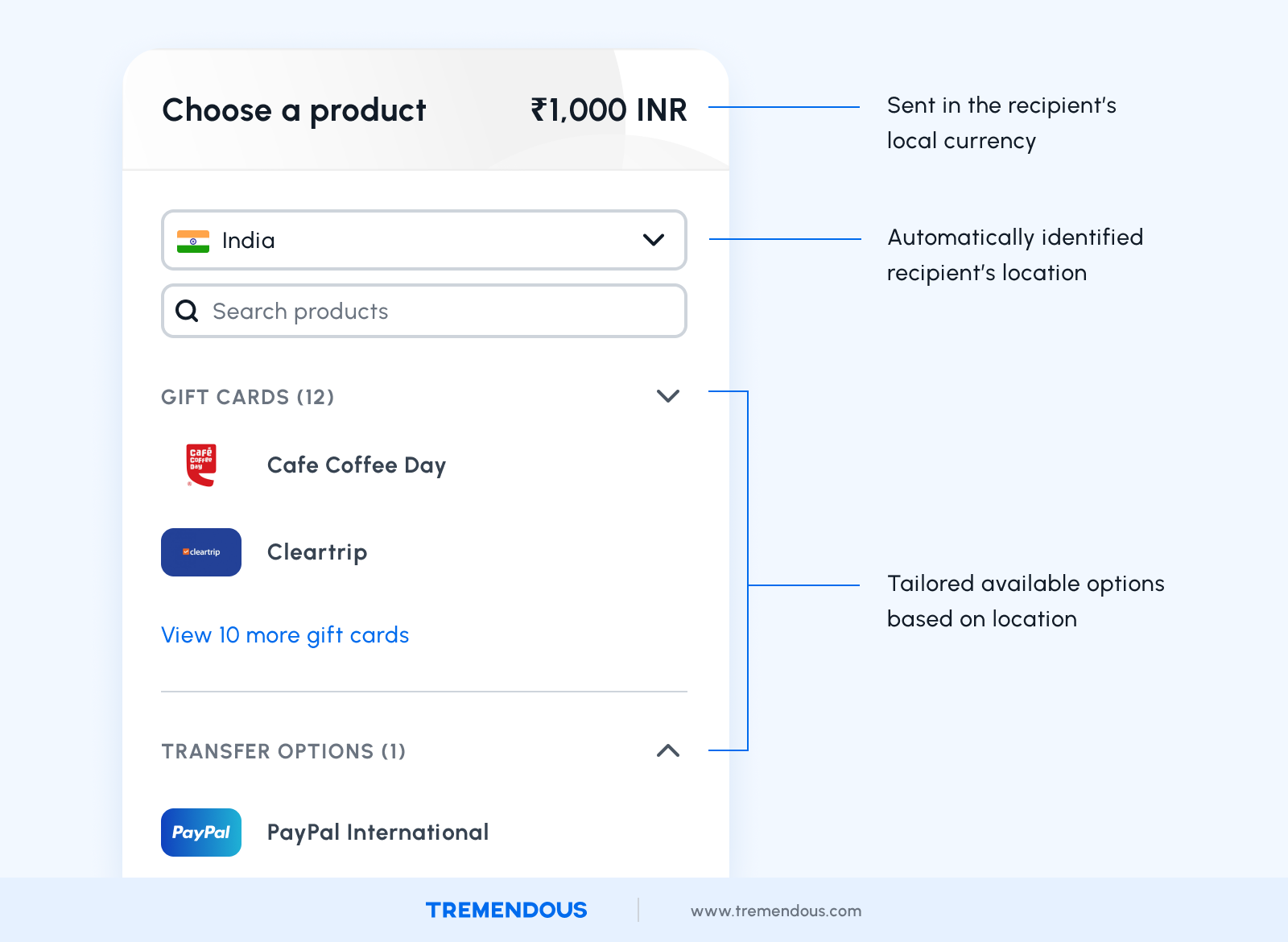 Results
Because Forsta automated incentive distribution through Tremendous, they were able to expertly administer their tiered incentive strategy with ease. Forsta completed their survey in short order while optimizing for cost savings.
"Tremendous helped save our client money," Manny said. "They identified the recipient's location and tailored the currency and incentive amount automatically."
"Without Tremendous' API connection, IP location services, currency conversions, and broad international coverage, we wouldn't have been able to complete such a complex project," Manny said.
Key takeaways (in the words of Manny Rodriguez)
Tremendous helped unlock Forsta's international growth
"Tremendous was able to elevate what we were able to do on a global scale."
"Tremendous is instrumental in us implementing complex incentive schemes that we simply wouldn't be able to do on our own. It's led to successful outcomes for a lot of our tricky international research initiatives."
Forsta found success with Tremendous because our platform is nimble.
"The Tremendous platform is flexible and allows us to adapt to our client's specific needs."
"If we need to automate incentives so participants receive their money instantly upon completion, Tremendous makes that easy."
"If the client needs to protect the identity of participants, Tremendous has a way of distributing money without capturing any of the participant's information. A huge win for clients concerned about safeguarding PII."
"With Tremendous, we don't need to leverage multiple vendors. We get the benefit of working with just one partner."
Tremendous saved Forsta's clients' money and led to additional business.
"Tremendous has been more than just another vendor. They've been a true partner."
"In the form of a true partner for Forsta, Tremendous and its client services team go above and beyond to handle the incentive portion of your research so you don't have to."
"When it comes to incentives, Tremendous has been a game changer for us. It's saved our clients money. It's helped us land follow-up research"
About Forsta
Forsta powers the HX (Human Experience) Platform – a comprehensive experience and research technology platform that breaks down the silos between CX (Customer Experience), Employee Experience (EX), and Market Research – so that companies can get a deeper, more complete understanding of the experiences of their audiences. Forsta's technology, combined with its team of expert consultants, helps thousands of organizations across a variety of industries, including financial services, hospitality, market research, professional services, retail, and technology. Forsta is recognized as a Leader in the 2021 Gartner® Magic Quadrant™ for Voice of the Customer. Forsta is a PG Forsta company.