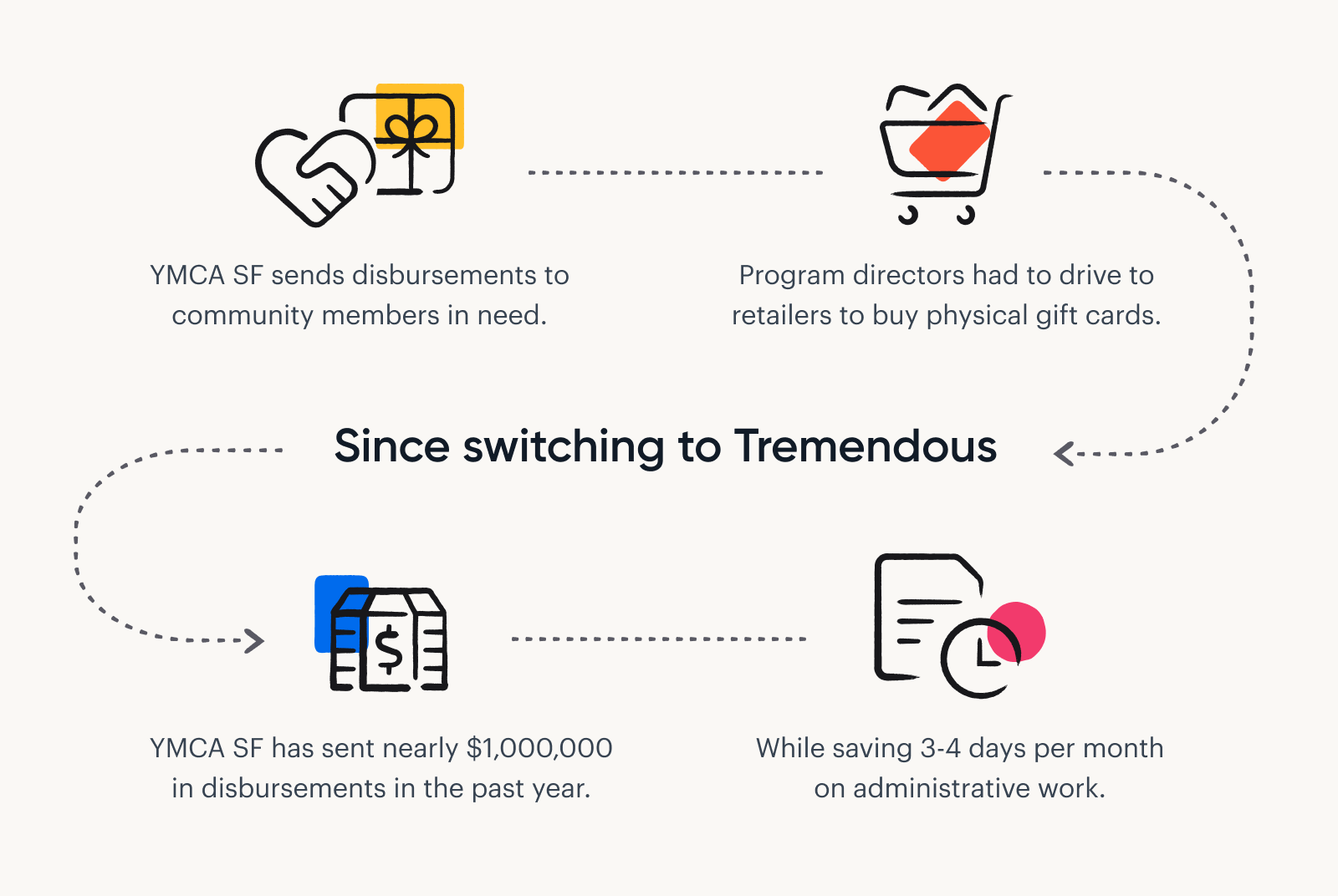 The highlight reel
→ YMCA San Francisco has used Tremendous to quickly and easily send over $986,000 in charitable distributions in one year - considerably more than they've been able to send in years prior.
→ "We're sending more just because it's so much easier. Easier to track from a compliance standpoint, easier to distribute, and easier for our recipients to redeem."
→ YMCA used to manually purchase, distribute, and track physical gift cards. Now, they do it all through Tremendous. The switch has helped YMCA program directors, administrators, and accounting teams save a total of 3 to 4 days every month.
The problem
Cynthia Pun, YMCA SF's district administrative director, spends a lot of time thinking about how to make processes more efficient and less tedious. One of her goals is to help program directors and line staff spend less time on administrative tasks, and more time on meaningful work.
In 2022, Cynthia zeroed in on how the nonprofit was sending charitable disbursements and incentives to community members. It was pretty inefficient.
At the time, program directors were heading to gas stations and grocery stores to buy stacks of gift cards. They were handing out gift cards in person, and chasing after recipients who'd hit the $600 threshold to collect W-9s themselves.
"It was a lot of going out and physically spending time to buy the gift cards, and then manually tracking them," said Cynthia. "Tracking the amount they're sending, making sure they're meeting internal protocol, meeting IRS regulations. A lot of manual work."
Because the process of buying, distributing, and tracking charitable disbursements was so complex, program directors had to spend a fair amount of time in trainings to learn the ropes.
"There was a lot of training and education that we had to provide those responsible for distributing gift cards so they understood the information we have to collect, and the requirements and guidelines we have to follow."
The fix
With Tremendous, YMCA SF can:
Easily order physical and digital Visa prepaid cards or gift cards to specific retailers in bulk.

Eliminate manual processes by ordering, distributing, and tracking payouts online.

Give recipients options for how they want to redeem their charitable disbursement or incentive.

Approve purchases in bulk, rather than one by one. And in just a few clicks.

Track payouts, access reports, and automatically collect W-9s to maintain compliance with internal protocol and IRS regulations. All from a single dashboard.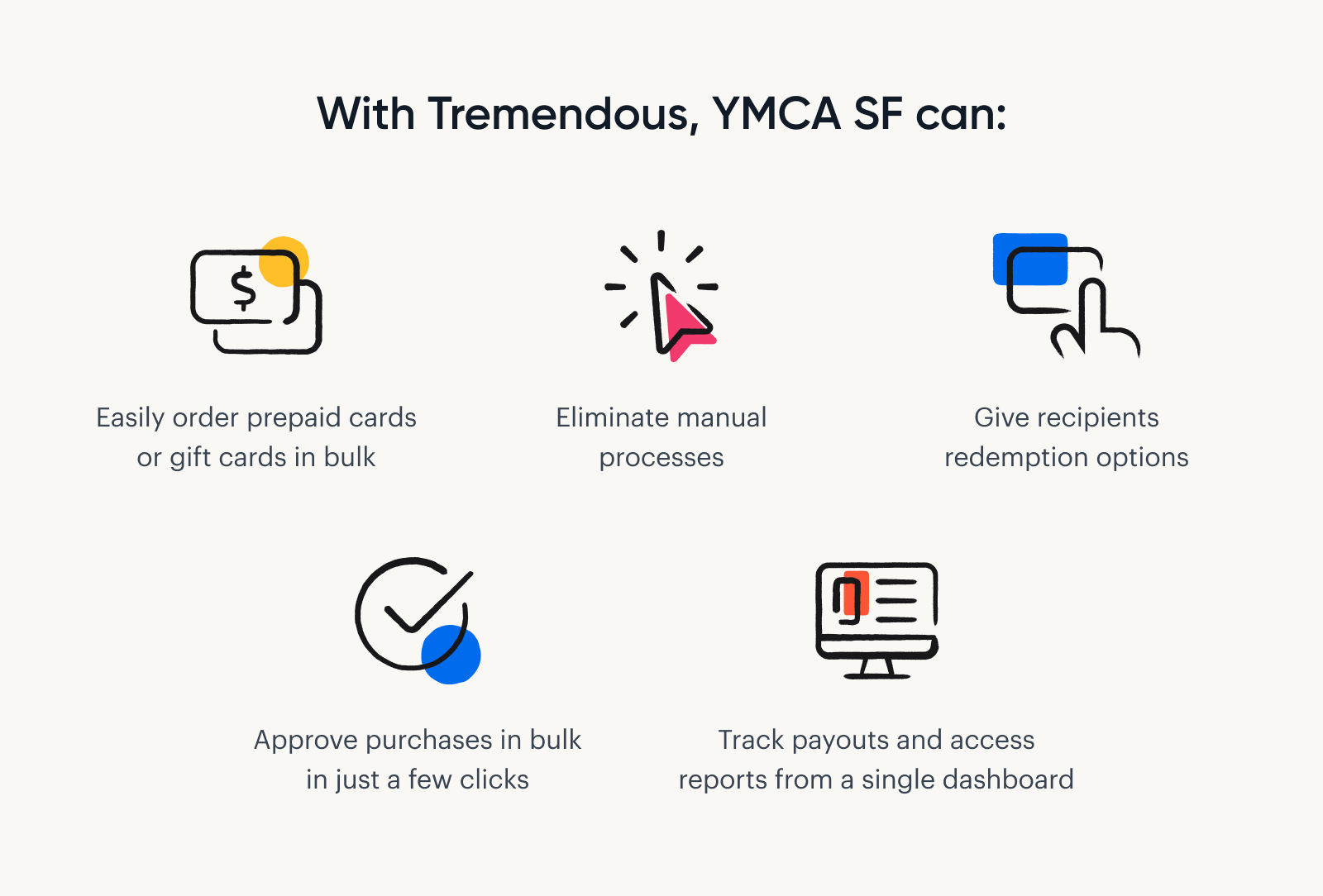 Rather than buying gift cards from individual retailers, YMCA program directors now have the opportunity to let community members choose how they want to redeem their disbursement.
"Tremendous has a huge catalog to choose from, but we simplify it by choosing 20 to 30 options that align with our mission," said Cynthia. "In most cases, people choose Visa prepaid cards or Amazon gift cards, because there's so much flexibility there. They can use it for basically anything."
While many people get their disbursements digitally, some don't have an email address, or easy access to a computer. Luckily, Tremendous enables organizations to send rewards via SMS, or order physical gift cards in bulk if they'd prefer to hand out disbursements in person.
"There's just so many different options for us to distribute the cards based on the population we're serving," she said. "And we work with so many different programs. Having the chance to choose is very useful."
Approvals, follow-up, and tax compliance is way easier
Nonprofits often have especially stringent protocols regarding how money movement is approved, tracked, and audited.
"We need to ensure we can show funds are given to people in need," said Cynthia.
Prior to using Tremendous, program directors requested approval for gift card orders one by one. They'd have to clear the purchase with their supervisors, branch executives, and the CFO.
Collecting W-9s from recipients who received over $600 was even more fraught.
"We used to have to ask them to go and collect a W-9, which is sometimes challenging, because not everyone is comfortable pulling out their social security number and putting it on a paper form."
But with Tremendous, supervisors can approve orders in bulk. Now, program directors can quickly get approval for multiple orders once weekly, rather than in frequent, ad-hoc spurts.
Tremendous also automates W-9 collection online. So administrators and recipients barely have to think about it anymore.
"We do minimal administrative work, and we've saved time across programs."
The outcome
Tremendous has helped YMCA SF save hours on administrative tasks every month, easily stay compliant with regulations, and send a lot more money to communities in need.
"Based on the volume that I've seen come through, especially in recent months, we're sending more just because it's so much easier," said Cynthia.
Having full transparency into the data surrounding payments, reporting, and tax regulations has made life a lot easier for both program directors and recipients.
"I can see all the disbursements that are coming through, and so can our accounting department. So there's a lot more transparency. We don't have to look in multiple sources to find where we're buying things, how much we're spending — it's all in one place."
If there's ever a problem with a recipient redeeming their incentive or disbursement, Cynthia knows she can count on the Tremendous support team to resolve the issue fast.
"The Tremendous team is super quick to respond and help us," said Cynthia. "That has been a major benefit."
And because the platform is free to use, YMCA SF can be confident all of the money they spend on disbursements and incentives goes straight to the recipient.
"There's no fee, which works really well for nonprofits," she said.