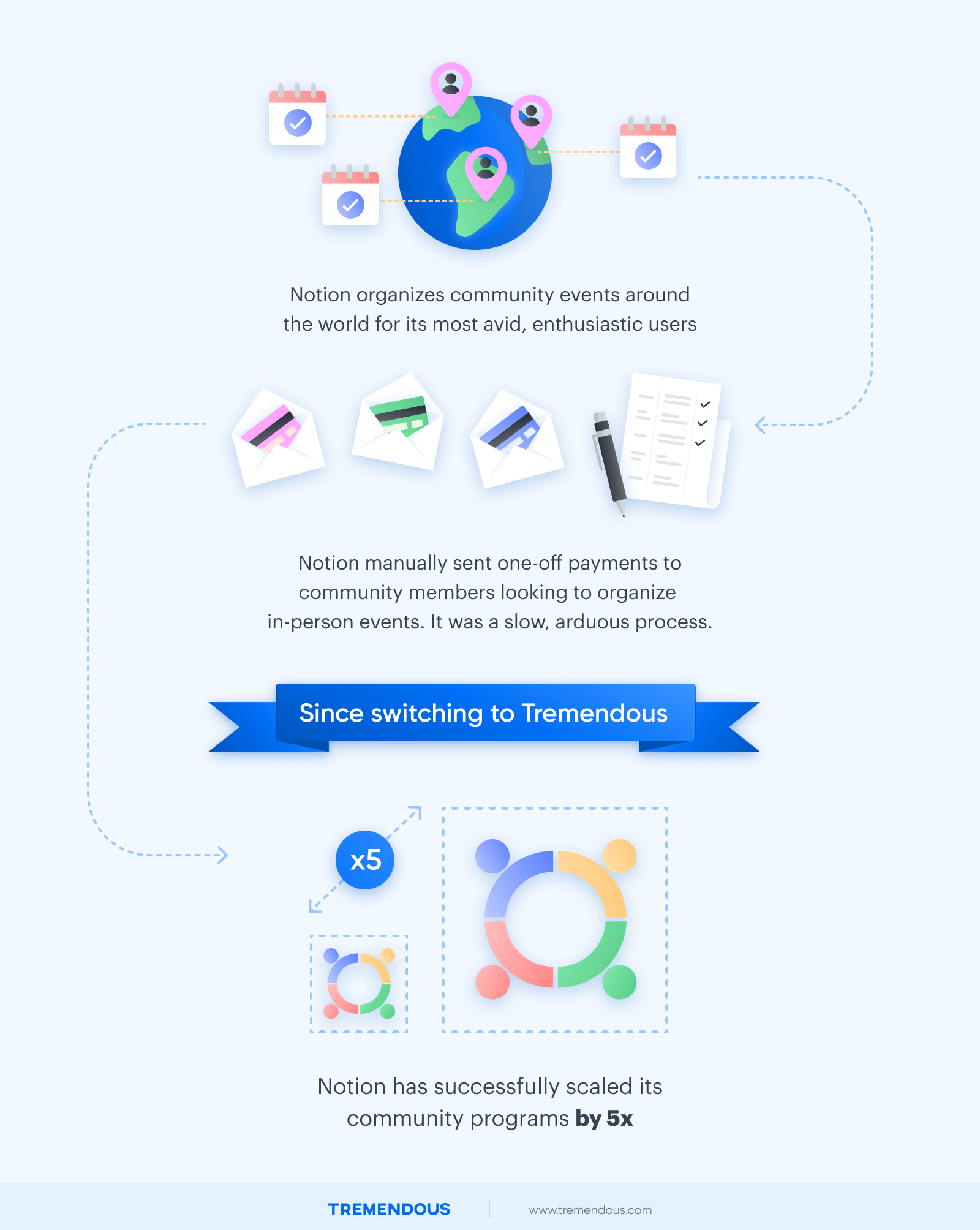 The highlight reel
→ Notion uses Tremendous to scale in-person community events by providing grants to members for event expenses. Members use the money to run panels, groups, workshops, and gatherings across dozens of countries.
→ "We send people small amounts — a couple grants — through Tremendous. But doing that at scale, internationally, and enabling so much to happen in real life — it's really powerful."
→ Switching from manual processes to Tremendous helped Notion scale its in-person community events program 5x.
The problem
Notion's Community Team — Ben Lang, Francisco Mendoza, and Emma Yee Yick — had big dreams. They wanted to empower the Notion community to organize meetups around the world, where fans of the platform could share best practices, jam on unique use cases for the platform, share templates, and nerd out about the distinct functionality that makes the tool so delightful.
Part of this grand plan involved providing small grants to community members interested in setting up events themselves. These grants paid for food, space rental, drinks — all the stuff that makes events fun and tenable.
But at the time, Notion was a small, scrappy team. And, like many small startups, everything was pretty ad hoc. They were sending one-off payments to their ambassadors manually. Often, they were sending international payments, since there were earnest Notion communities in several countries that wanted to meet face-to-face. So Notion's small finance and community team had to deal with sending a bunch of payments in different currencies.
If you're wondering how that went:
"It was messy," said Ben. "And we managed to do that for probably a year because Notion was small at that point. But we hit a point where we needed to get more organized in order to scale."
The fix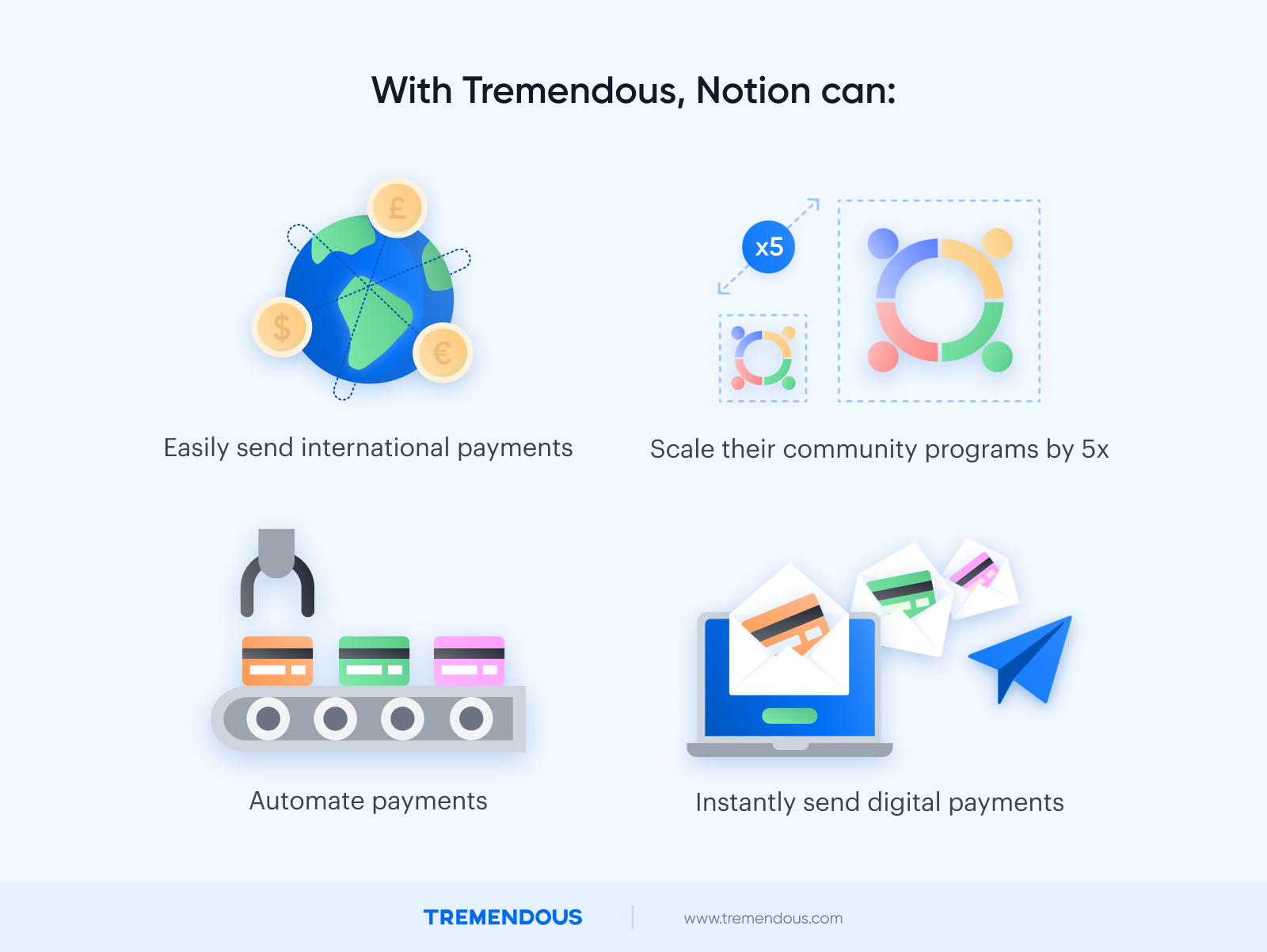 Scaling got easier
Notion's Community team started using Tremendous to send one-off payments to people around the world. Suddenly, sending grants was really, really easy. And Notion could scale these events way up. In-person community meetups, gatherings, workshops, and groups cropped up across dozens and dozens of countries.
In Ben's estimation, switching to Tremendous helped Notion scale its community programs by 5x.
"We're able to do a lot more now. In February alone, there were 41 Notion community-led events," said Ben. "That's more than one every day all over the world. Entirely self-organized. I think that's really, really incredible. And it requires that the logistics are sorted out to be able to enable that."
Ben has since made one more improvement to the workflow: automation. Notion is an early adopter of the new Tremendous integration with Zapier, using a field in Airtable to trigger sending grants. "We're thrilled about the Zapier integration, given the scale/volume of our grants, this saves a bunch of time," Ben told us. "Instead of manually sending them out, we've been able to automate the process."
International payments are a breeze
International payments used to be a huge pain. Notion's finance team had to worry about conversion rates and collecting tax forms for all of these events, and it stressed everybody out.
"On our finance side, we need to ensure we're doing things correctly," said Ben. "Making sure our finance team was happy was our biggest hurdle. Because we don't want to make them spend their time doing this. They have enough stuff on their plate."
Now, the finance team doesn't have to spend time focused on community events or double-checking conversion rates. They get their time back, and Ben and the rest of the community team can easily handle payments on their own.
"Our community team was able to use Tremendous on our own. We don't have to ask for help. And the finance team is happy. That's a feat in and of itself."
The outcome
Since scaling their in-person community events with help from Tremendous, Notion has been able to support some really cool stuff.
On Notion's community page, you can see for yourself what they've got going on. In a single week, ambassadors are hosting the following events:
Women in Tech Panel (at UIUC in Illinois)

#TogetherWithNotion Study Group (at the University of Tampa)

Organize your projects and team with Notion (in Barcelona)

Notion Chat: Notionlogia x NotionColombia (in Bogota)

Get to know notion.so (at Universitat Bielefeld in Germany)
Along with a bunch more. Again, that's in just one week.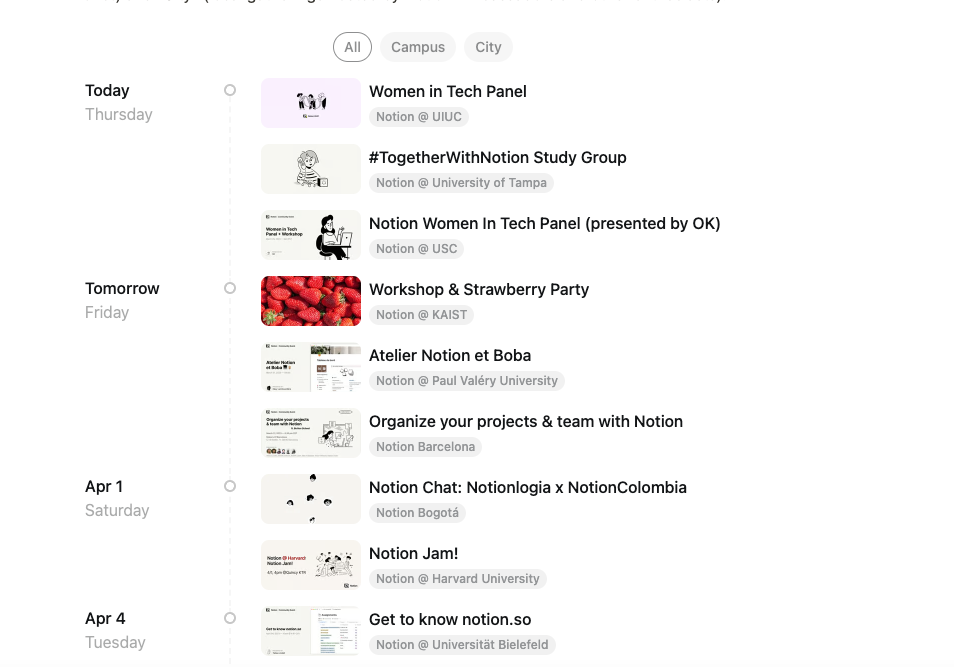 Notion hosts events for global groups, interest-based groups (there's one called "ADHD & Notion" on Facebook; another called "Minimalist Notion"), and location-based groups.
Here's just a smattering of the countries where Notion has sent its ambassadors grant money to put on events: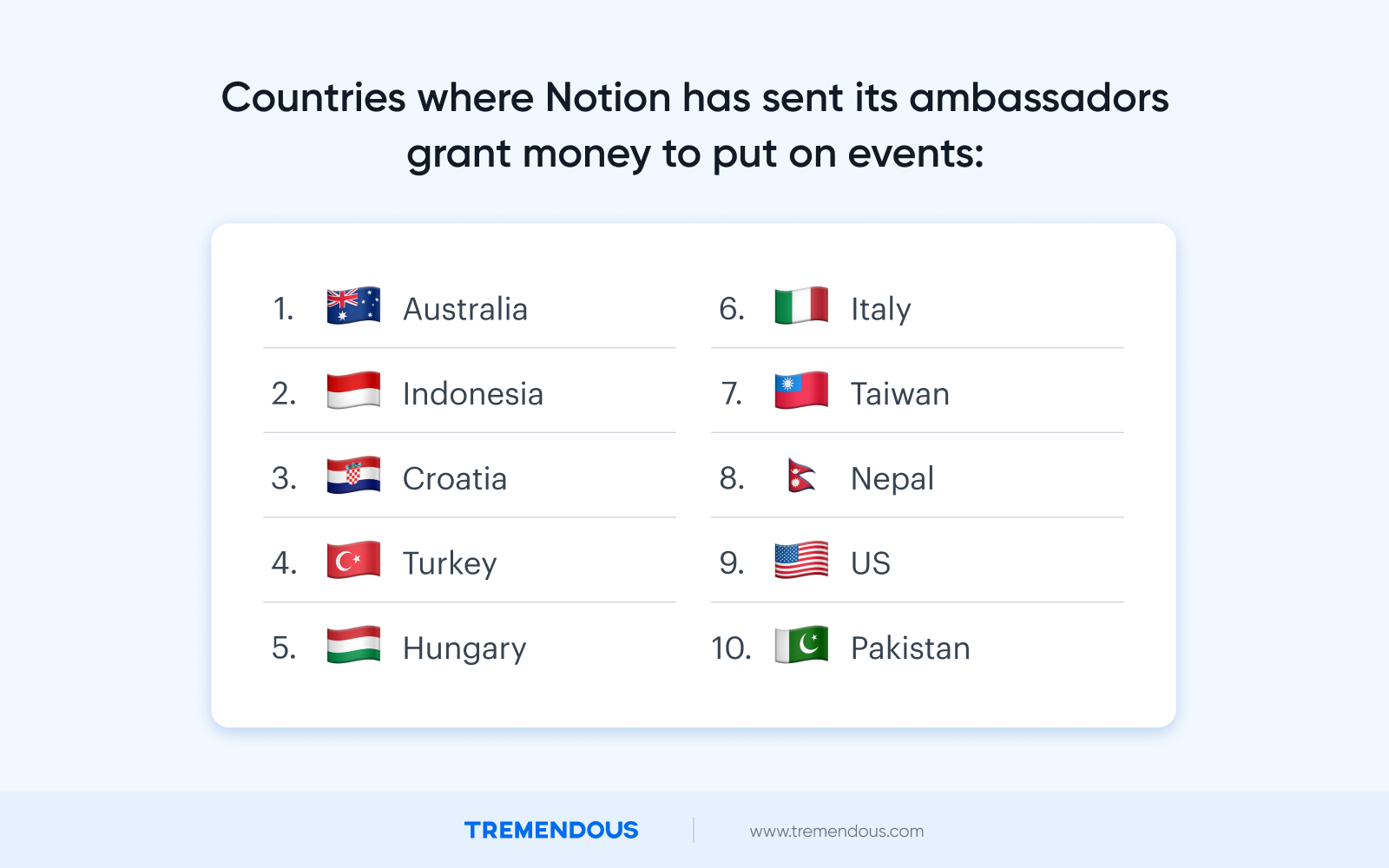 The list goes on.
The Notion community has used its grants to think outside the box.
"We've seen students hosting these Notion boba meetups," said Ben. "They make branded Notion boba cups and put together Notion workshops. They're so creative."
And many of these events are surprisingly well-attended.
"Some of these events have hundreds of attendees," said Ben. "Entirely community-led, self-organized. We're here to empower our community."
Communities-of-product are an extremely popular nontraditional marketing tactic that have taken the internet by storm. People are the lifeblood of this experiential new way to spread the word about a product and all it can do.
Moving communities off the internet and into university coffee shops and city centers brings with it a rare vibrancy that fosters authentic connections between genuine enthusiasts.
These kinds of experiences are invaluable.
"This is us empowering people to connect around Notion. All over the world."