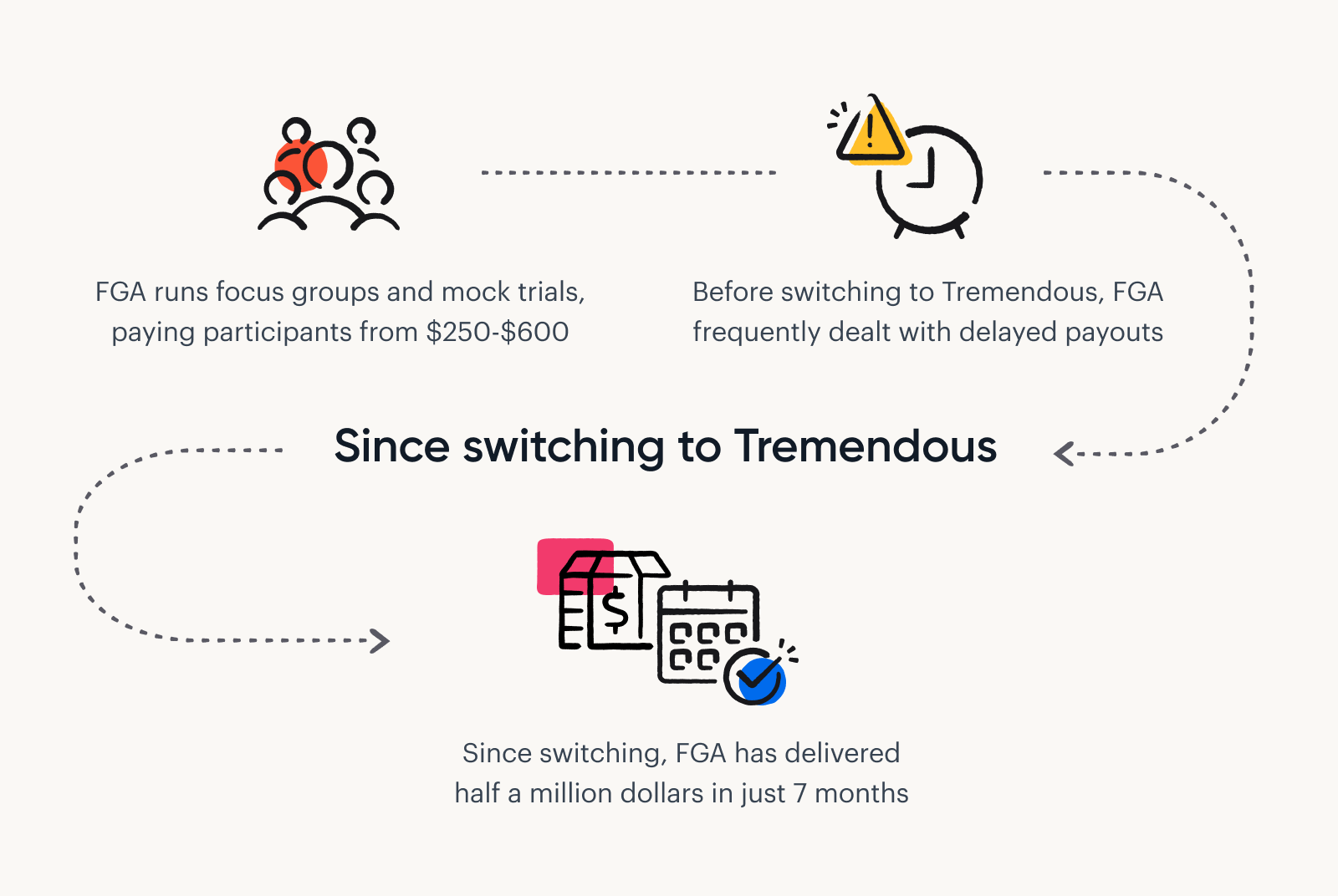 The highlight reel
→ Focus Groups of America (FGA) has used Tremendous to send $500,000 to research participants around the country. They send payouts between $250 and $600 in bulk.
→ Switching from another payouts platform to Tremendous eliminated delayed payouts. And when FGA has questions about their account, Tremendous' support team responds within 2-3 hours.
→ "We now have the ability to say, 'I'm going to get you your money today'. And that really makes [participants'] day."
The problem
FGA runs focus groups and mock trials for companies and legal teams around the country. These studies take hours — the mock trials take 2 days. Participants devote a lot of time to these events, and they're paid appropriately for their efforts. Mock trial participants in particular receive up to $600. Naturally, people are keen to get their payouts quickly.
Before switching to Tremendous, FGA used another payouts platform to send research incentives to participants. But the platform had serious deliverability issues, and the customer support team took several days to resolve problems.
"Literally, our reputation was being tanked because respondents were not receiving the payouts. We would issue the payouts with an email, and half of them weren't delivered," said Paige Hanks, CFO at FGA.
Paige contacted the vendor's customer support team for help, but rarely got the speedy service she expected.
"Their customer service just was not stellar," said Paige.
The respondents who didn't receive their payouts in a timely manner were vocal about the experience. Many flocked to Facebook to air their grievances. FGA knew they had to change the way they issued incentives to improve the participant experience. Every participant touchpoint matters, and FGA is committed to preserving the integrity of their research protocols.
"When respondents came to us and said 'my card doesn't work,' it made it look like we didn't issue them the payment," said Paige. "That's what we were dealing with."
One social media post from a disgruntled research participant caught Paige's attention.
"One of the respondent's comments on social media was, 'I wish you guys would use Tremendous. They're a great company and they always deliver payouts.'"
The fix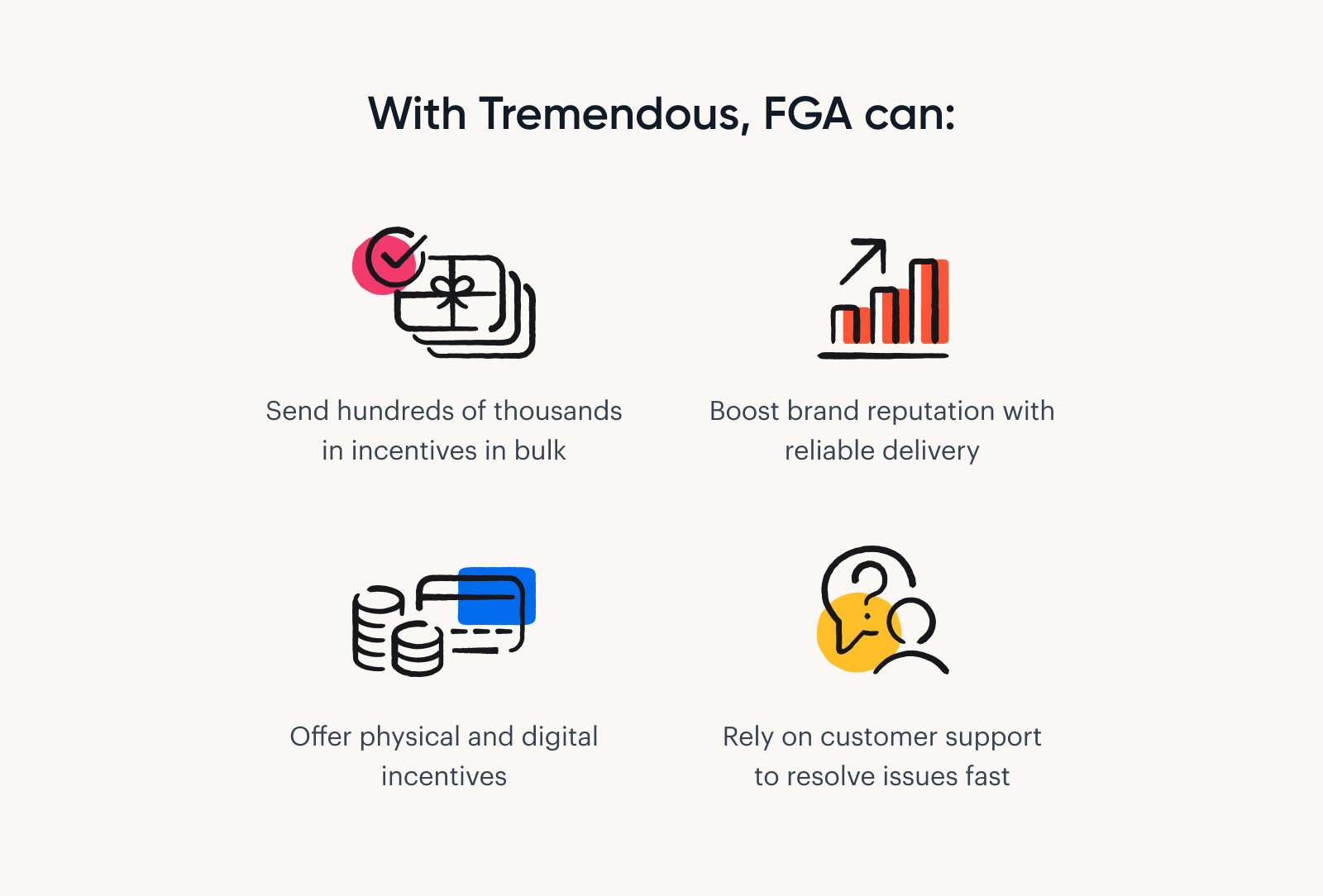 Support for any concern within hours — not days
Shortly after seeing a word-of-mouth recommendation to try Tremendous, Paige engaged with our sales team. FGA got set up with Tremendous quickly, and started sending incentives to research participants right away.
"We've been with you guys for 7 months now, and we've issued $500,000," said Paige.
On the rare occasion a problem arises, FGA sees a resolution in hours — not days. In one instance, Paige noticed there was a hold on her account. FGA was sending dozens of $600 rewards, triggering Tremendous' fraud protection functionality. But instead of waiting days for a response from our support team — or never hearing back at all — FGA got the help they needed to send incentives almost immediately.
"I contacted Tremendous, and within moments, they acknowledged my email, said 'let me see what I can do.' Within a couple hours, everybody had their payments," said Paige.
"They know their system, they know what they need to do to get around their system, and they get things taken care of."
Timely incentives foster happier research participants
Research participants are the lifeblood of market research firms, and keeping participants happy is crucial for maintaining a reliable pipeline throughout recruitment.
A late payment mottles brand perception, and can sour the relationship between participants and research firms for good. Worse still, as in FGA's case, disappointed participants can become public detractors.
With Tremendous, Paige said, "We now have the ability to say, 'I'm going to get you your money today'. And that really makes their day."
The outcome
In addition to bolstering their brand reputation, FGA's relationship with Tremendous also reduced the costs associated with user errors, which can occur when administering payouts.
"We've had an occasion where two people have issued the exact same payment," said Paige. "So we've had to cancel one of our orders. But Tremendous's customer support quickly goes into action to fix our mistake. Within two to three hours, that gets addressed."
"Because Tremendous acts so fast, we don't lose that money," she added.
FGA can also offer several redemption options to research participants, including both digital incentives and physical cards. Some of FGA's research participants are older adults, who prefer a physical prepaid Visa card, for example, over the digitized version.

"With respondents that are older, they're a bit confused when we tell them an email is going to be their incentive," said Paige. "So being able to offer a physical card is a big deal to probably around 25% of our respondents."
No matter what kind of incentive recipients choose, FGA can rest assured they'll receive it promptly.
"If a payment needs to go out immediately — like, now — we can easily do that."