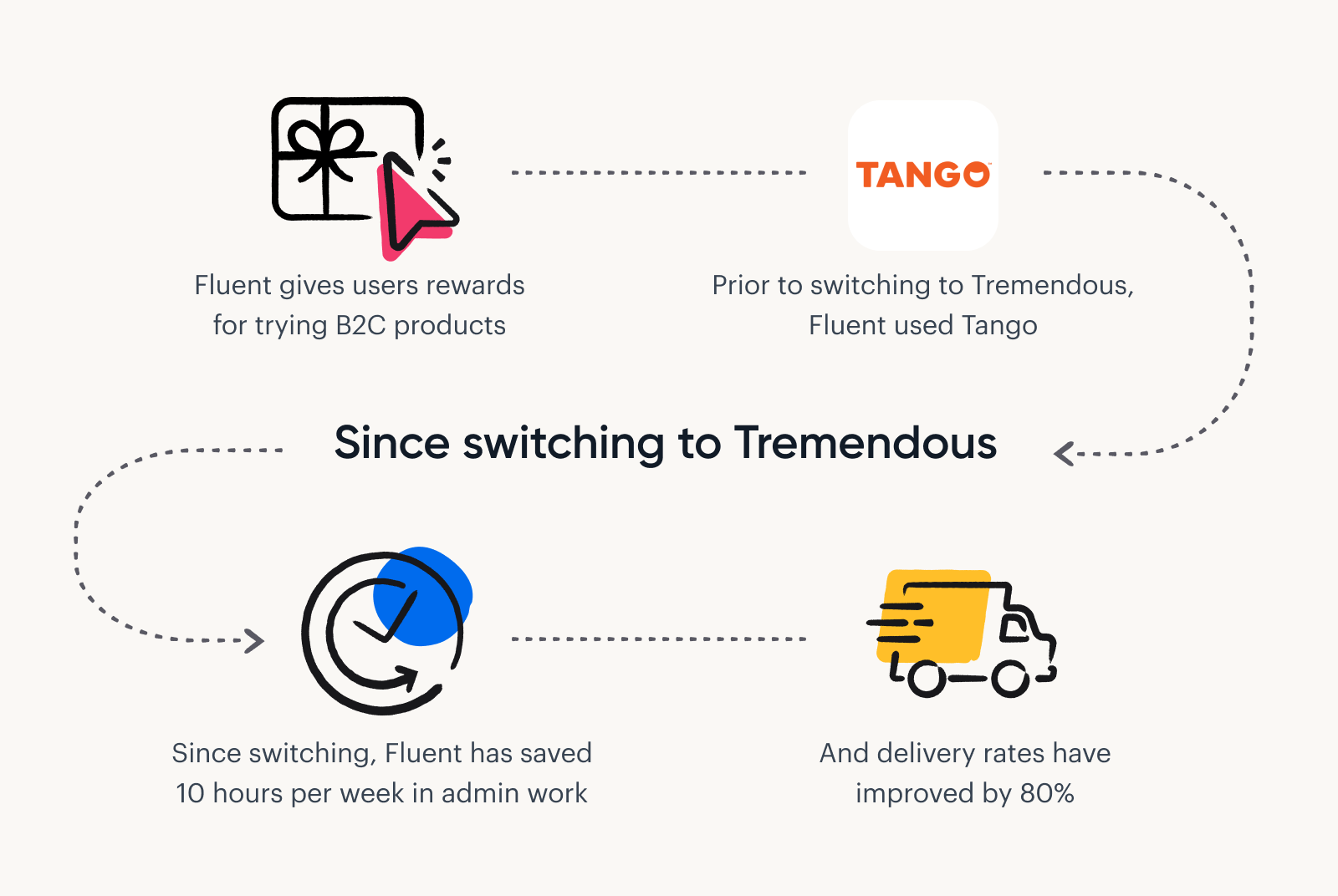 The Highlight Reel
→ Fluent sends more than $600,000 in rewards every month to users who discover and sign up for new B2C products on their platform.
→ Since switching from Tango to Tremendous, Fluent has seen reward delivery rates increase by 80%. They've also saved 10 hours per week on administrative work.
→ "The overall ease of use is the best part of Tremendous. The other big thing is the redemption process. We've seen deliverability improve dramatically."
The problem
Fluent Inc. spends a lot of time thinking about the user experience. Users join Fluent's consumer-facing app to try new streaming services, mobile gaming apps, subscription services, and other B2C offerings. Over a million people have signed up to earn rewards for trying out new products and services on Fluent's platforms, where they can earn anywhere from $5 to $1,500 in a month.
Users expect these rewards to be easy to redeem, and to hit their inboxes quickly. If the reward redemption process is a pain — or if rewards never arrive at all — customers drop off the platform.
"Participants can get rewards for trying products and services on our platform every 60 days. So we want them to come back," said Jen Moore, Customer Experience Manager at Fluent, Inc.
Prior to switching to Tremendous, Fluent used Tango as their rewards provider. A lot of times, participants never received their rewards: 25%-30% of rewards never hit recipients' inboxes. This posed a real risk to Fluent's brand reputation. The company had to brace for waves of public backlash on consumer review sites like TrustPilot.
Sending rewards with Tango also caused headaches internally. It a tedious process; customer experience managers at Fluent spent more than 11 hours per week manually sending and approving payouts.
Worse still: customer support agents were swamped with requests to address delivery issues. Agents spent 40 hours per week ensuring participants actually received their rewards. This involved talking on the phone or via email with users who had delivery problems, and trying to troubleshoot with Tango's customer service team to diagnose issues.
"This was problematic, because participants lost trust in our program," said Jen.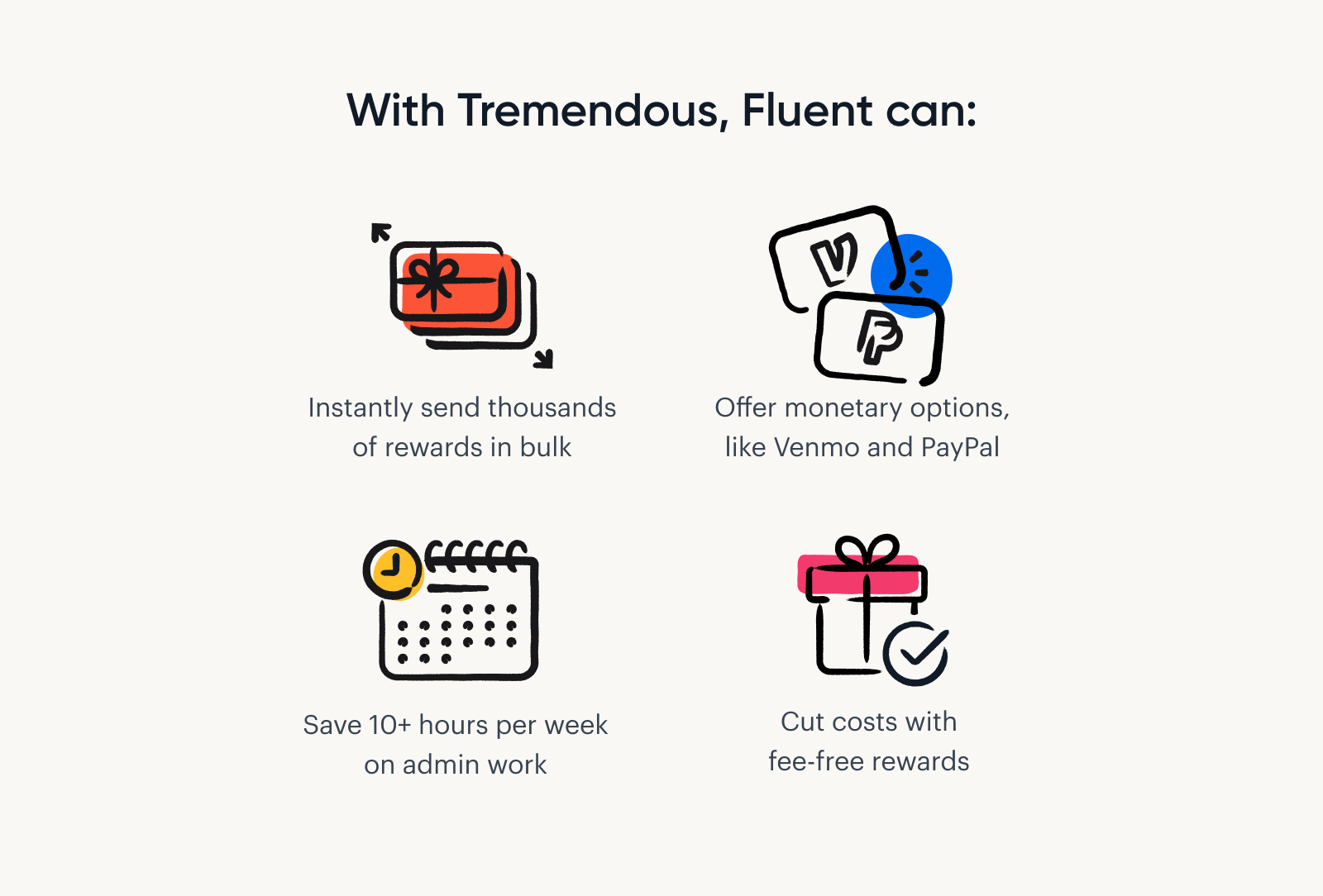 With Tremendous, Fluent can:
Instantly send thousands of rewards in bulk

Offer monetary options, like Venmo and PayPal

Save 10+ hours per week on admin work

Cut costs with fee-free rewards
Improving brand reputation through a better redemption experience
Since Fluent started using Tremendous to reward participants for trying new apps and products on their platform, they've seen delivery rates improve by 80%.
This has helped Fluent retain more repeat participants month over month, since users can be confident they'll receive the rewards they were promised.
"Our rewards program is the primary business unit for Fluent," said Jen. "Delivery rates affect our reputation. With an offering like this, automatically people have a bit of skepticism. They're being paid to try different products, after all. So Tremendous really helps our credibility — we do what we say we're going to do."
Tremendous has also helped improve Fluent's user experience by expanding the number of redemption options participants can choose from.
Fluent's clients, who pay Fluent to host their apps and services on the platform, are looking to attract a variety of demographics to their offerings. Each demographic prefers slightly different sets of rewards — some may want a gift card to Topgolf or Ulta Beauty, others a Venmo payout, still others an Amazon.com Gift Card.
With more than 1,000 ways to reward, Fluent can serve locally relevant options that suit just about anyone, no matter how diverse their tastes or preferences.
Saving time and money. Week after week.
Jen has used a few different rewards platforms in her career. But Tremendous is the first that's been totally fee-free for the vast majority of payout options.
"The cost savings are big. We don't have fees per reward we send," she said. "With some other vendors, I've seen as much as a $20 fee per reward."
"In the past, we've had to pay a flat fee for gift cards, which we don't incur with Tremendous," she added. "The only exception is Venmo, PayPal, and direct deposit — those come with a small fee. But we didn't even have monetary options with our past vendor."
That's to say nothing of the time savings Fluent has seen since switching to Tremendous.
"With our previous vendor, sending rewards was much more tedious. An individual from the team had to go in and manually click and approve rewards. That was a big internal pain point."
Now, Fluent uses the Tremendous API to automate rewards.
"Being able to set up campaigns easily and have rewards go through instantaneously — that's huge," said Jen. "We're always looking to optimize our internal processes. Tremendous played a huge part in that."
All told, Fluent has saved more than 10 hours every week on administrative processes since the switch.
The outcome
For Fluent, it took a matter of days to implement Tremendous and start sending rewards. And the switch has saved them days per month in administrative work, and thousands in fees.
"I ran $40,000 in rewards today. We have it all automated, so the user gets their email, a follow-up message, all that. It's very, very smooth," said Jen.
Jen uses the Tremendous dashboard for more than just sending rewards. She can also look up orders, export rewards, and download reports. All from a single platform.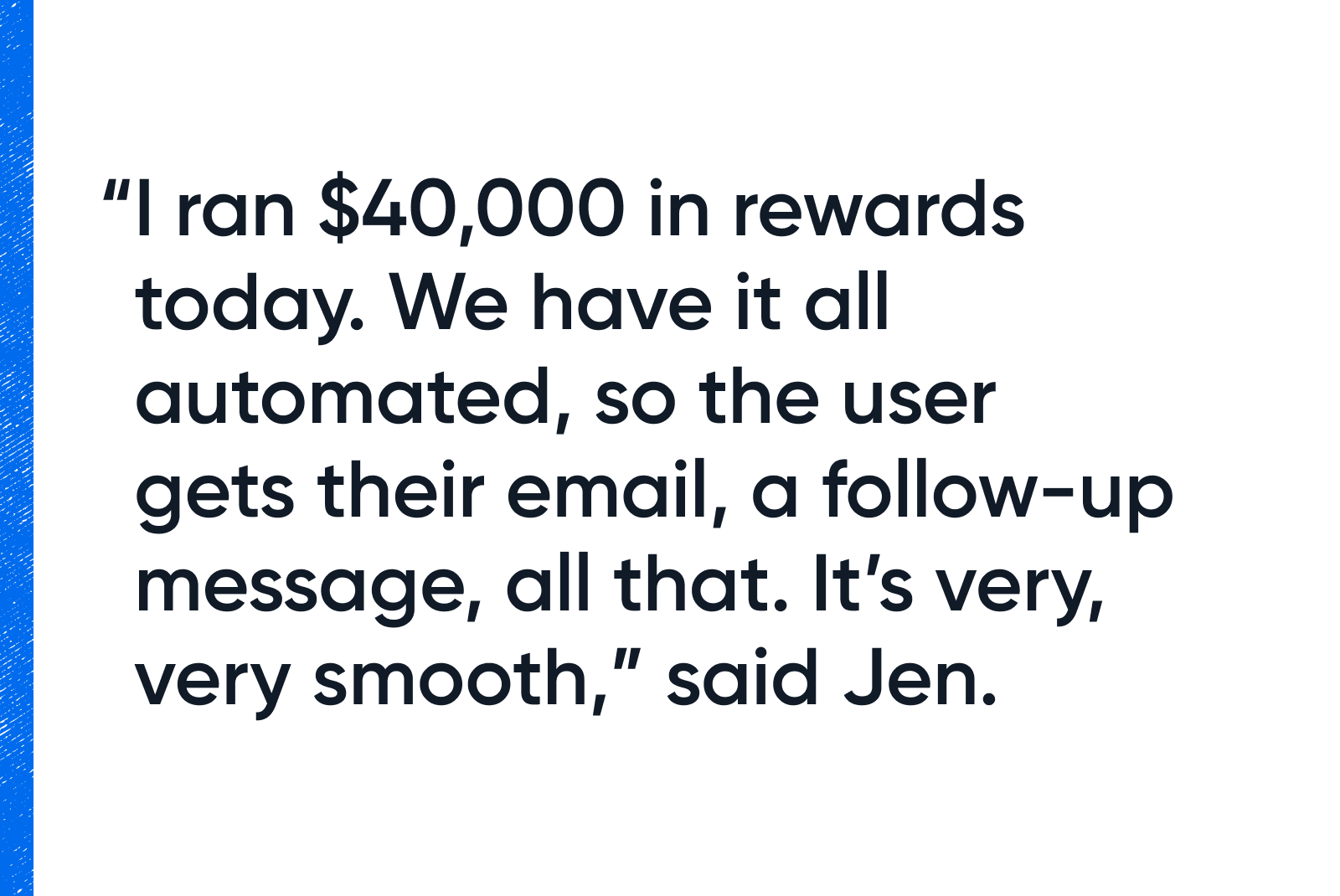 And while the Fluent team spends a lot less time troubleshooting delivery issues, they still contact our support team with questions from participants, and other inquiries about the platform.
"I always appreciate really good support," said Jen. "If I reach out to Tremendous with a question, I know I'm always going to get a timely, thoughtful, thorough answer. And some of these questions are important for us to make a decision or educate a user, which is time sensitive."
"The support team is really helpful. Which was not the case when we had Tango," she added.
Ready for a partner you can count on? Tremendous has your back.