‍Challenge

Naviscent conducts both in-person and online research in the U.S. and globally with thousands of participants each year. For clients who want to conduct their own research, Naviscent also handles participant recruitment, incentive distribution and other research operations functions.
As Naviscent's businesses grew and took on more international projects, the company needed an easy way to pay participants in a growing number of countries.
When sending gift cards to participants in Canada, France and Australia, for example, one of Naviscent's previous gift card providers required that George Papazian use different, country-specific portals. For countries that the vendor didn't service, the company had to find alternative payment methods. He recalls a particularly time-consuming project in which he went to a Western Union office to send a payment to participants in rural Mexico because there was no other acceptable electronic solution.
As the demand for global research grew over the pandemic, paying incentives took more and more time. Sometimes that meant hours of tedious work. "It was becoming very time consuming and labor intensive," he said. He knew he had to find an alternative.
Solution
Naviscent needed a payout solution that allowed him to send batches of incentives at once, regardless of the recipient's country or the associated study.
For George, Tremendous solved his problems.
He can upload .CSV files of participant information.

Tremendous dynamically pulls that information into customized messages to participants.

The participant's IP address automatically identifies the recipient's location, the currency is converted and the catalog is tailored to offerings in the recipient's region.

Tremendous also allows Naviscent to send money via ACH transfer or PayPal.
"The Tremendous interface makes it simpler for us to make these payments faster and to use one source to do so," George said. "Importantly, it also delivers a great experience for participants."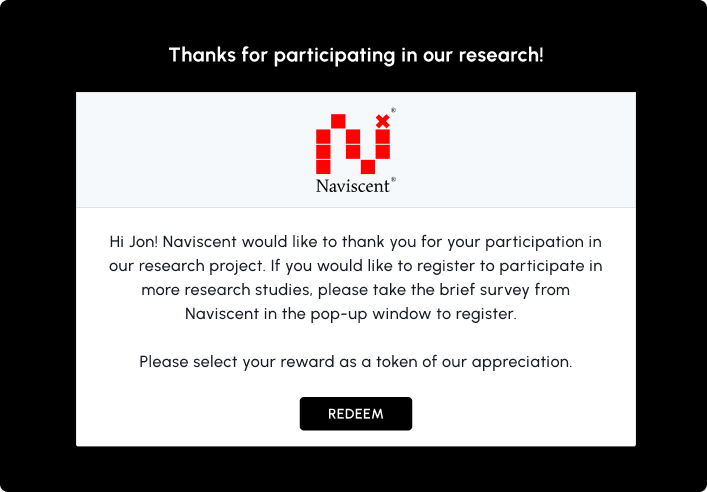 ‍Results
12+ transactions a week down to 1

Naviscent often has multiple research studies going at once. In the past, paying participants for multiple research projects meant separate, manual tasks for each project. In a week, that could mean individual payouts for more than a dozen studies. Tremendous' bulk upload process and dynamic fields allowed George to simplify that process.
"It turned what used to be 12 different steps into one," George said. "I can easily approve and track payments and get on with my day."
Multiple vendors down to 1—without losing any services

Previously, Naviscent had a provider for gift cards and multiple solutions for direct cash transfers to accommodate paying participants across the globe. Tremendous allowed Naviscent to consolidate incentive distributions and tracking into one system. George can now easily send and track payments to more than 200 countries.
"Tremendous gives us an easier way to offer flexibility and choice to our research participants," George said. "They can choose how they want to receive their incentive."
Better overall experience for respondents

The participants benefit, too, with more choices than before, George said. He can offer participants options such as a direct cash transfer, prepaid card or a gift card to dozens of retailers—something he couldn't do before.
The most important part for his company, George said, is that participants receive an enjoyable experience.
"The incentive is the very last part of the research experience," George said. "If the participant gets a gift card where they can specifically use it with one company, they'll be happy. If they can choose their gift card from a variety of choices that may be more relevant to them at that moment, I believe their experience has been improved. They are happier having that choice."