New survey: Market research goes global, yet incentive strategies lag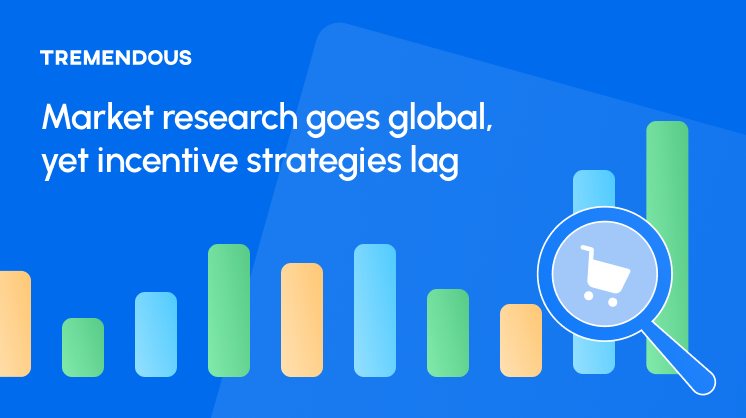 Market researchers increasingly target hard-to-reach and global audiences. Their incentive strategies and budgets need to evolve to keep up.
The industry had long clung to old-school payment methods — paper checks, plastic gift cards, and envelopes of cash. Covid compelled many organizations to seek a digital solution. But many still offer limited redemption methods and use time-consuming and manual processes.
In fact, only 42% of those we surveyed report using an incentive platform (like Tremendous or one of our competitors).  
Tremendous surveyed three dozen market research leaders, project managers, and recruiters at Quirk's NYC 2022. (Naturally, we incentivized their participation with our product. We paid $20 for approximately 10 minutes of survey time.)
Here's how some of the industry's top research firms approach incentives. Respondents include in-house teams (such as PepsiCo, Anthem, and H-E-B) and market research firms (including Forsta, IvyExec, and OvationMR).
Table of contents
Market research incentives are going up (particularly for international participants)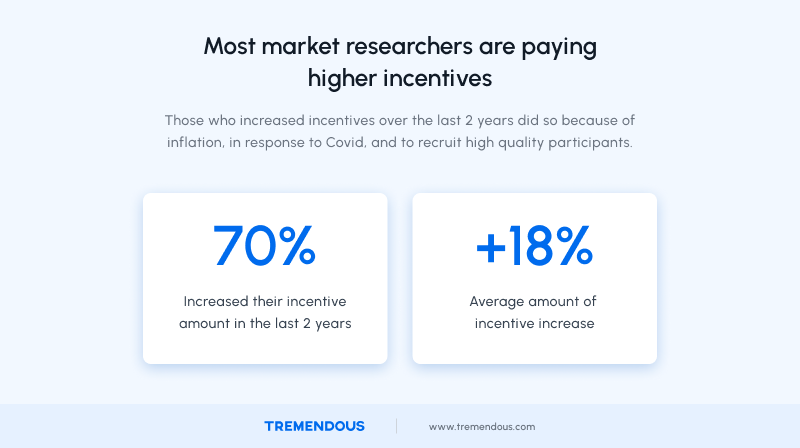 A vast majority of respondents (70%) raised their incentive budgets in the last two years. On average, payments increased roughly 18%.
Many cited inflation, COVID, and the need to pay more to recruit quality participants. The United States saw 7% inflation in 2021 and 8.5% this year (at the time of publication).
Others said they're increasing incentives in line with "more internal demand for research." In particular, global research in areas where "audiences are harder to reach."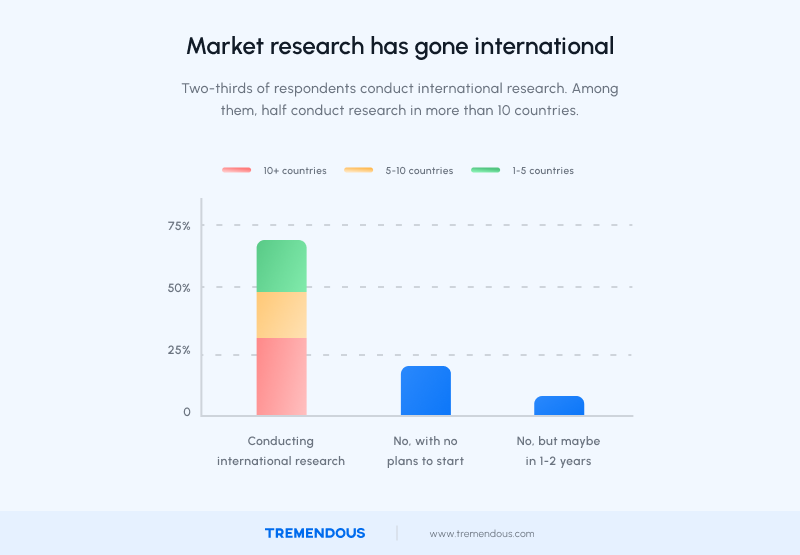 Two-thirds of respondents conduct international research. Among them, half conduct research in more than 10 countries. As we note below, international research has been a particular pain point for researchers.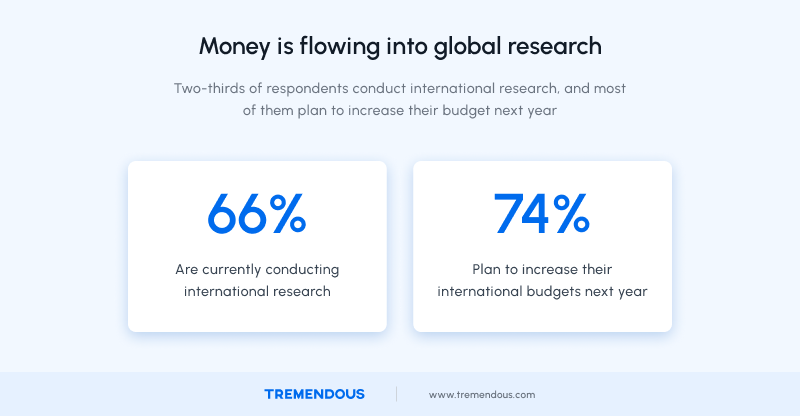 Of the 66% of respondents conducting international research, 74% intend to increase their incentive budget in 2023.
Cash and charitable donations are on the rise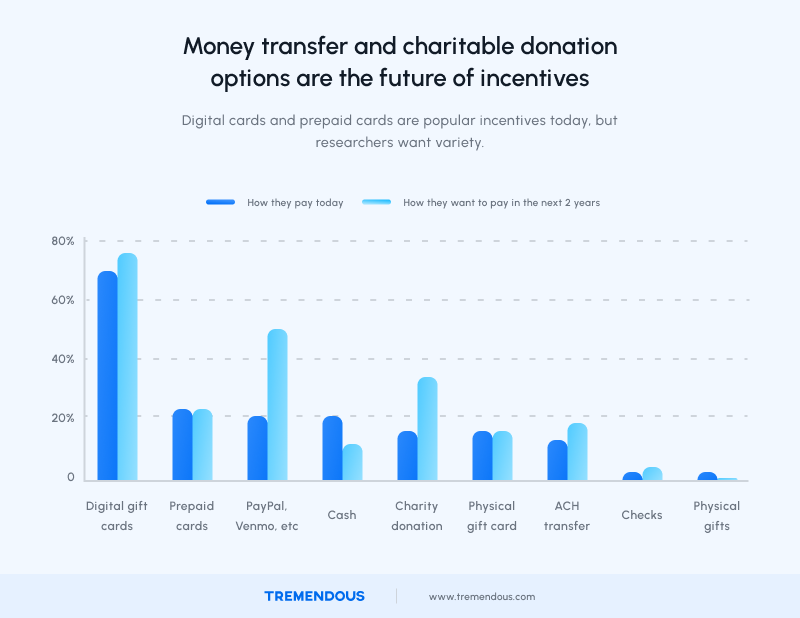 When paying, market researchers (72%) prefer to send digital gift cards, and demand for digital cards is expected to stay strong. But researchers are increasingly interested in offering other options as well.
Only about 20% of respondents offer cash transfer payout options (like PayPal or Venmo). Half say they intend to offer these incentive options in the next two years.
The same pattern holds true for charitable donations. Only 17% offer it today, but 36% want to add the option. For instance, charitable donations might be effective at recruiting a C-suite executive (who isn't enticed by $100) or someone in an industry that can't accept incentives (like the government). Without this type of incentive, these populations are hard to reach.
Meanwhile, researchers signal little or decreasing interest in physical incentives (cash, checks, and physical cards).
Market research incentive strategies are slow to adapt
Many of the participants piecemeal an incentive system together. For example, 44% of respondents rely on manually sending Amazon.com gift cards. Among other challenges, this approach creates huge headaches for cross-border incentives.
It's no surprise, then, that manual process and scaling issues are a top pain point related to market research incentives.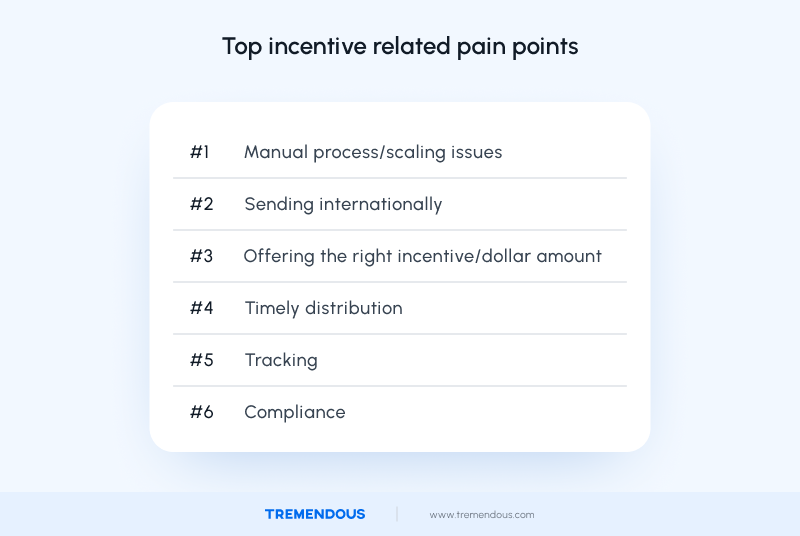 As budgets increase and research becomes increasingly more complex and global, solving these issues will become paramount.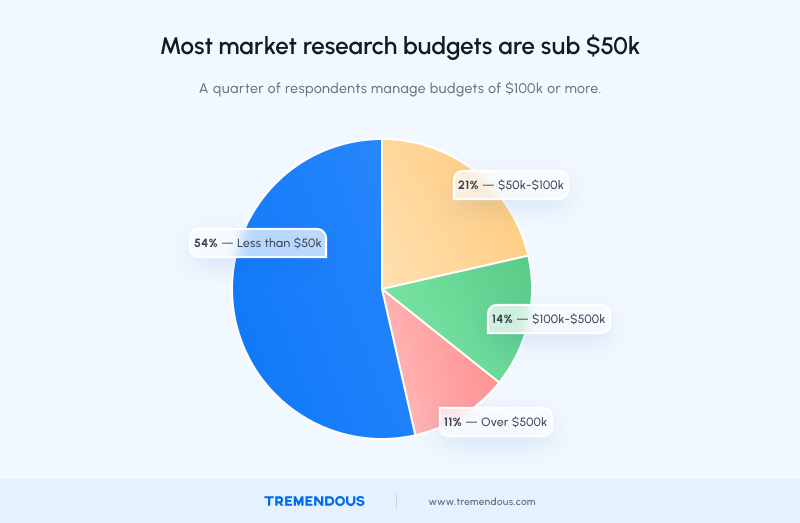 For reference, a little more than half of the respondents manage annual budgets under $50k. One in ten manage budgets over $500k.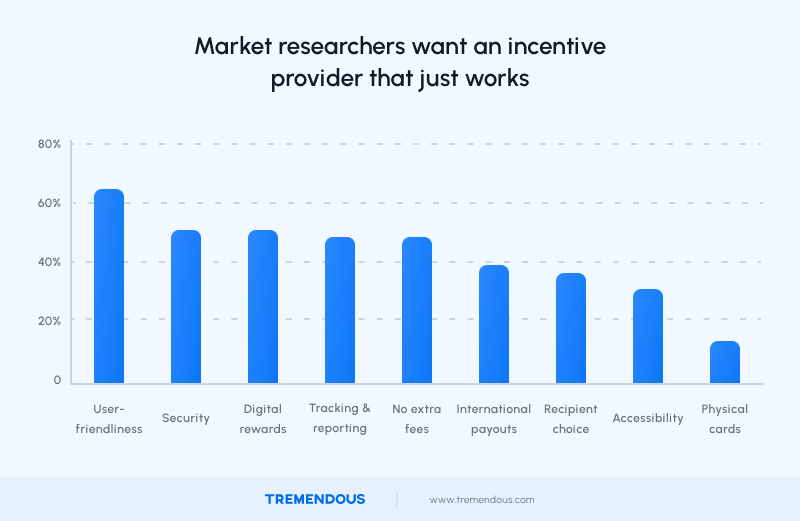 When it comes to selecting an incentive provider, respondents show strong interest in something that just works.
User-friendly design is overwhelmingly the most important factor. But security, digital incentives, tracking, and cost were important to roughly half of those surveyed.
As research grows more complex and global, they must shift from a DIY approach to incentive strategies that scale.