Cash is king for customer referrals: 5 examples
By Ian Floyd|4 min read|Updated Nov 17, 2022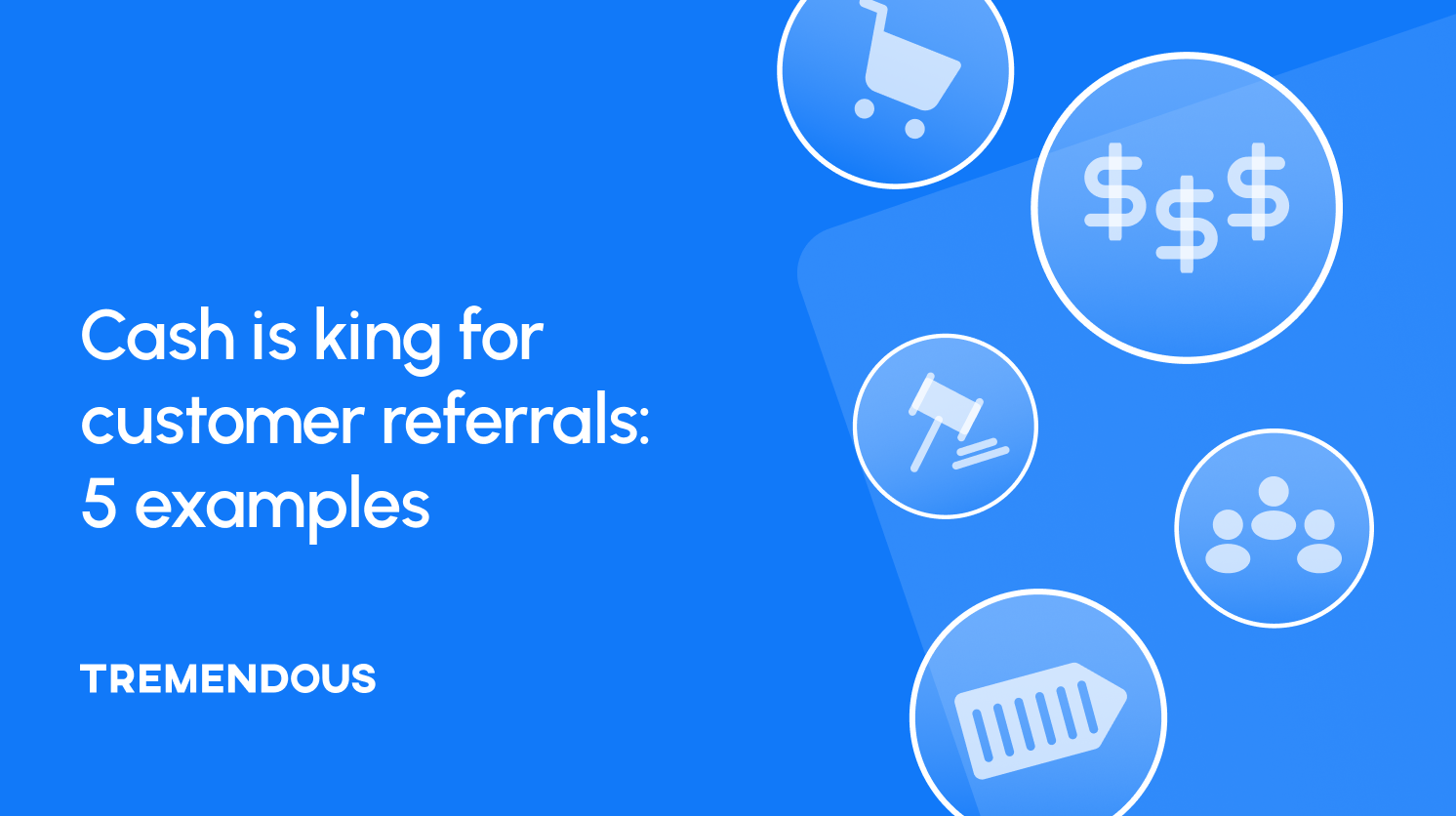 Customer referral programs help drive hockey-stick growth for companies of all shapes and sizes, as made popular by the likes of PayPal, Uber, and Dropbox.
It makes sense why: referred customers are hugely valuable. Referred friends carry a 4x higher lifetime value and convert 5x faster than customers found through other channels.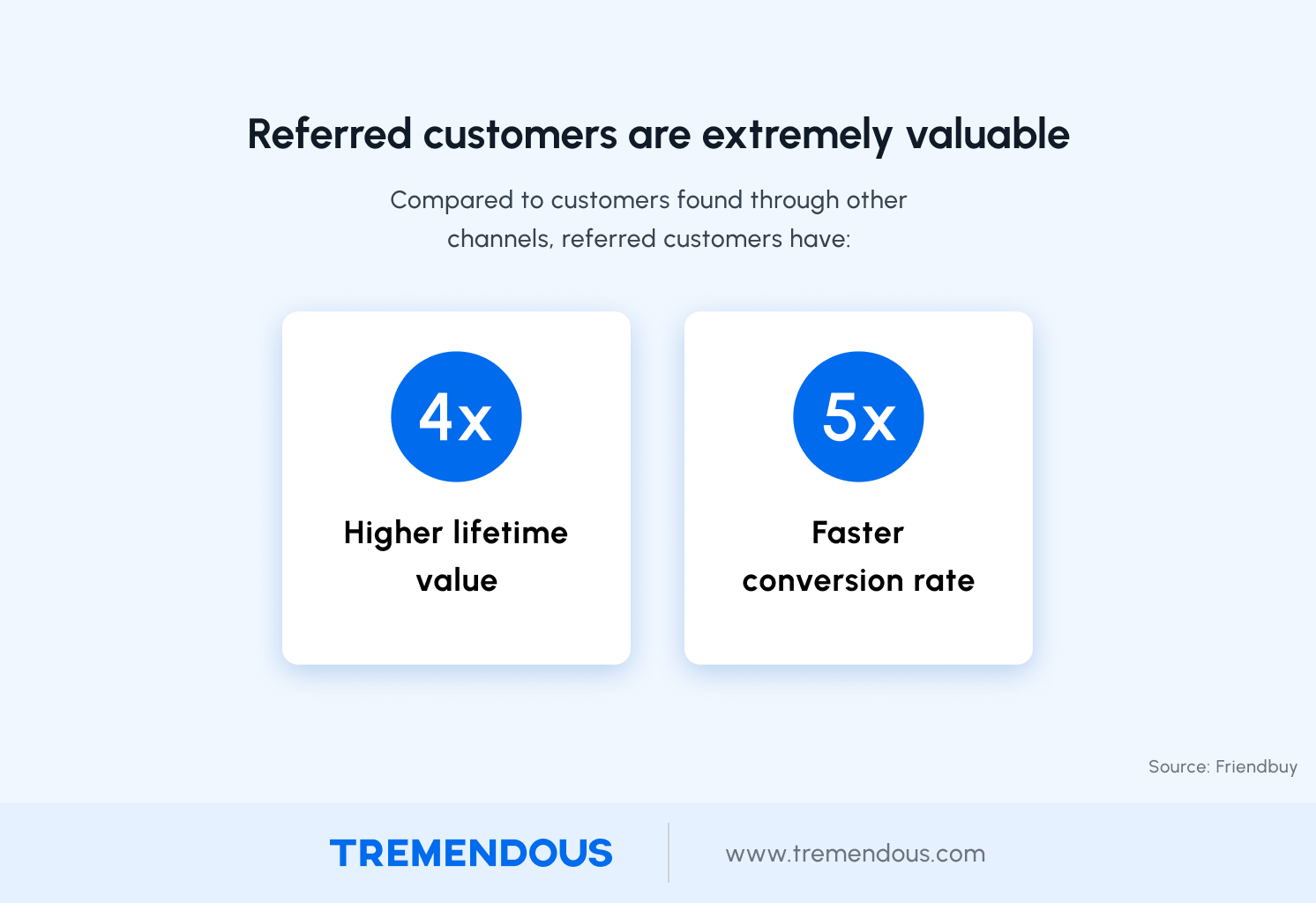 "When it comes to your return on spend, referral programs are one of the most profitable ways to acquire customers," said Samantha Samuels, head of partnerships at Friendbuy, during a recent webinar.
When it comes to incentivizing customer referral programs, there are two options: offer discounts on your products or offer cash (or an equivalent). In most cases, cash is king. High-growth brands like Casper, Smile Direct Club, Intuit, Inc., and GoodRx all offer existing customers cash rewards for referring their friends.
"It's extremely efficient because we're leveraging our top customers and we've strategically included referral placements throughout the customer life cycle," said James DeStefano, senior director of customer marketing and CRM for Casper. "Contributing to that ROI is the ability to test and optimize on a continuous basis."
Choosing the right incentive is about understanding what will best motivate your customers to refer their friends. Consider these five clear-cut cases when cash is, indeed, king.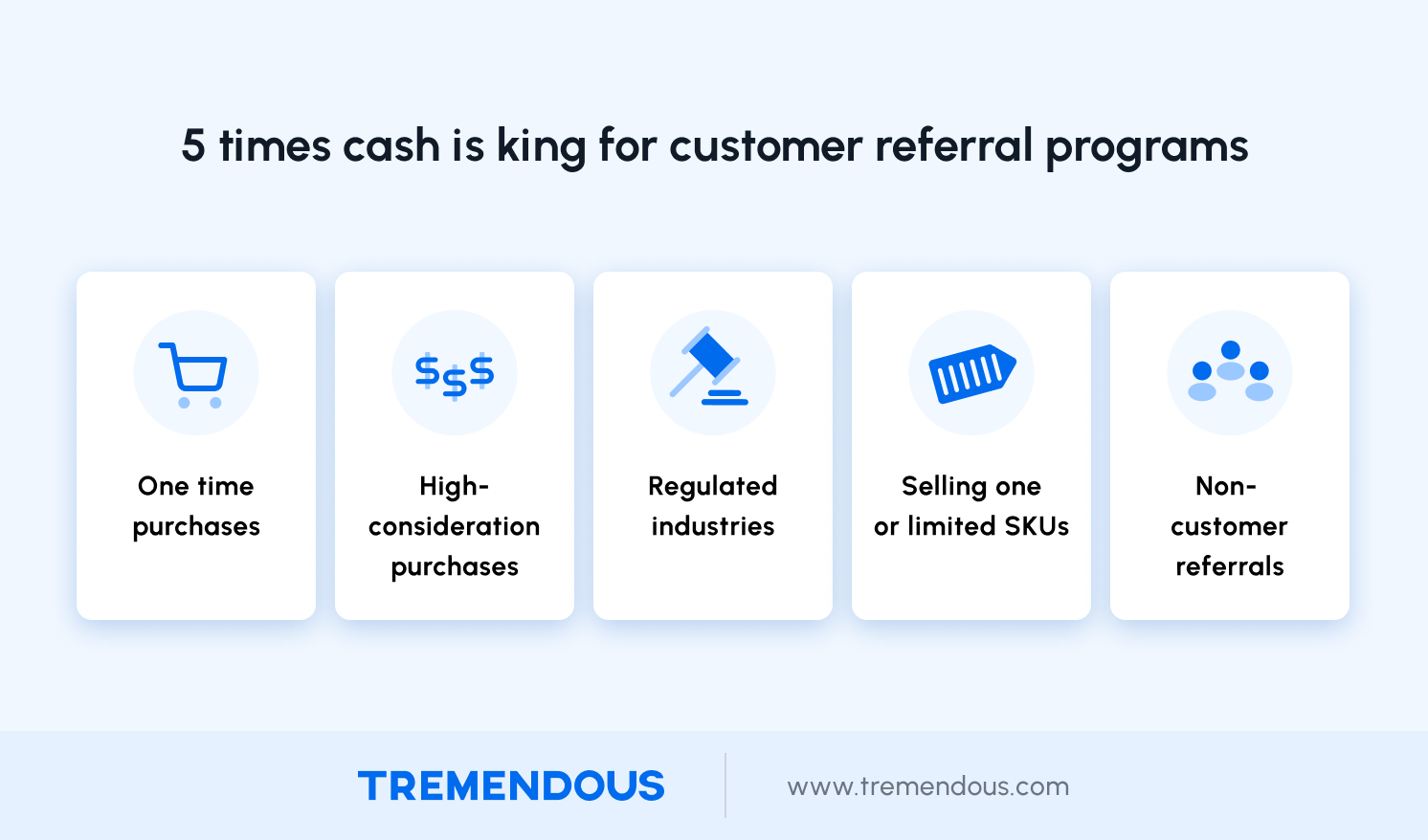 Table of contents
Case no. 1:  It's an infrequent purchase.
If you just bought a new car, then a discount on your next one won't hold much appeal, right? You only need one, and you don't plan to replace it for a long time.
It's that way with a lot of purchases—kitchen appliances, karate uniforms, and karaoke machines, to name a few.
When the product is a one-time or infrequent purchase, cash beats a discount for obvious reasons: the referring customer has no use for the discount.
Sure, a discount might be great for the referred friend. But, remember, first you must motivate your existing customer for the referral to happen.
Take Tempo, which sells high-end home gym equipment with a built-in personal trainer. Because Tempo doesn't expect existing customers to make frequent purchases, they offer them a $100 gift card for referring friends.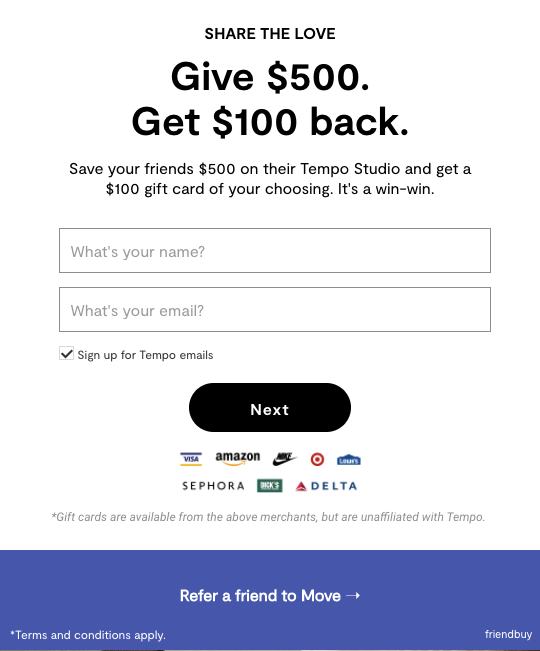 The same is true with Casper mattresses. They're super high quality and people love them. But they also only buy one every few years, so a discount to their existing customers really doesn't get them very motivated.
Instead, Casper offers existing customers a $75 Amazon gift card, and the referred customers get 25% off their mattress.
That's made referral programs one of Casper's most effective marketing strategies.
So, if you don't expect many repeat purchases, then consider offering your customers cash for referrals.
Case no. 2: It's a high consideration purchase.
Cash also works as a great motivator for referrals when someone is making a high consideration purchase.
As the name implies, these are things that require a lot of thought, or mental consideration, in the buying process.
It could be a high consideration because it's an expensive purchase, like a car, or because it's an infrequent purchase, like a home gym equipment. But it can just as easily be an everyday item like a pair of jeans (if you're into fashion) or an iPhone case (if you're clumsy like me).
The main thing is it's important to the person that they get the purchase just right.
You know you're making a high consideration purchase when you find yourself feverishly reviewing online reviews and asking your friends for their thoughts (which is the perfect time for them to mention that great refer-a-friend program, by the way).
A pillow is a great example of a high-consideration purchase. True, it's not very expensive (at least compared to a new car or a mattress), so you're not out a lot of money if you get it wrong. At the same time, it's important to most people that they get this purchase right.
Here, Casper again goes with a cash offer: $10 for referring a friend who purchases a $60 pillow.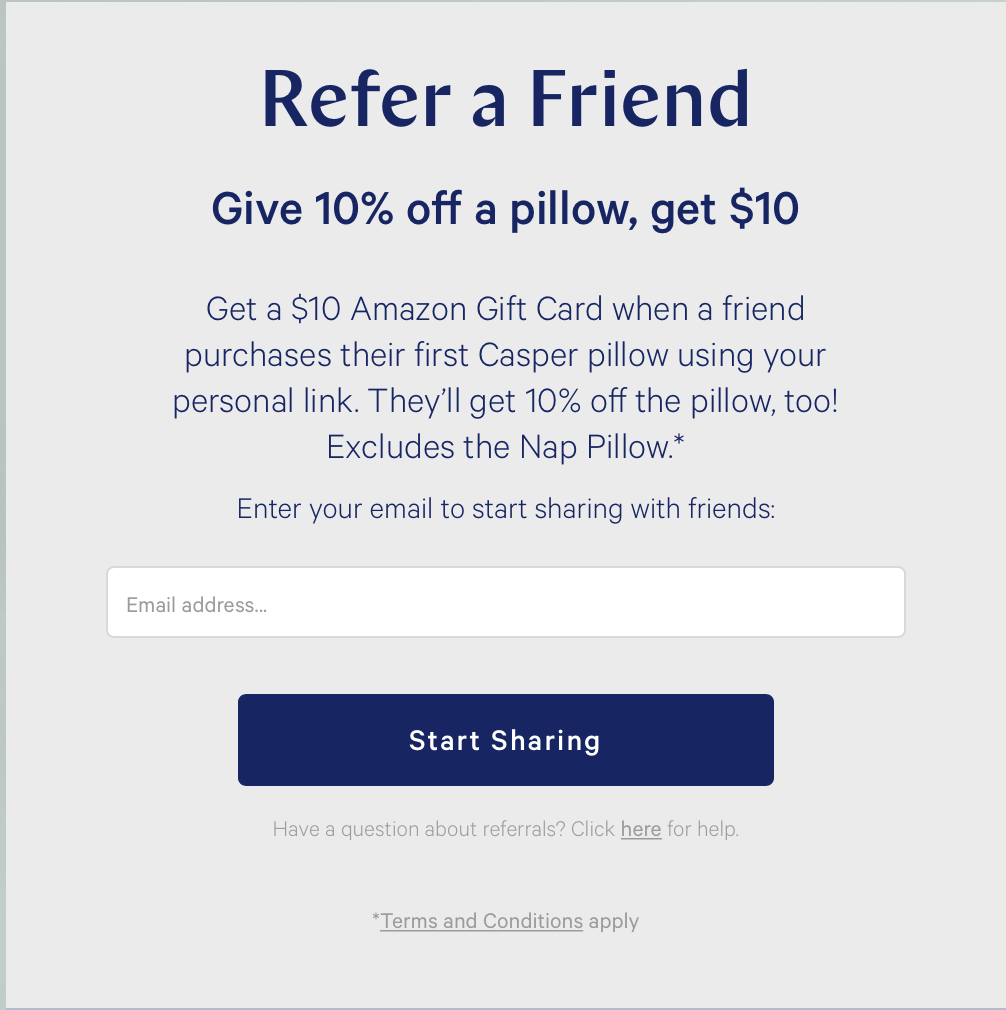 Case no. 3: It's a limited SKU.
Similar logic holds for customers of companies that offer just one main product, or SKU.
If you only offer one product or service that people don't buy all that often, then offering a discount on the next one isn't all that appealing.
Take teeth straighteners, for example. The idea is that a customer pays for the service and then probably won't come back as a repeat customer (because the product worked). But all those happy customers with their newfound smiles still like cash rewards.
That's why SmileDirectClub offers customers a $100 Visa card for referrals.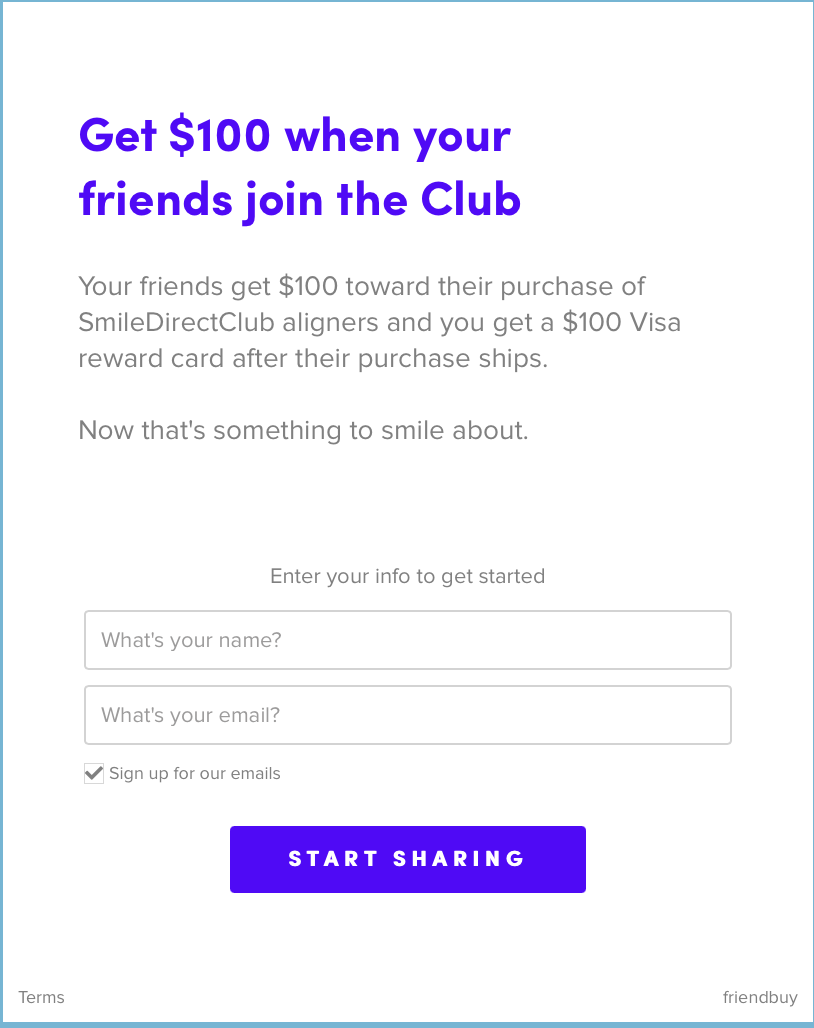 Case no. 4: It's a regulated industry.
OK, this one's a bit of a gimme for monetary rewards. In many regulated industries, there are strict rules against offering customers discounts. In those cases, it's often the case that a cash or gift card reward is allowed.
For instance, Constellation, an energy provider, offers $50 to existing and referred customers.

Case no. 5: To generate non-customer referrals.
High-growth companies that offer cash or gift card rewards for referrals often find an additional benefit with this approach: people who don't use or even enjoy their product are willing to refer their friends for a small fee.
By offering cash rewards, companies can get referrals from people who aren't customers (and perhaps never will be).
Establishing an effective customer referral program
Customer referral programs are an effective marketing strategy … when they're set up properly.
Tremendous recently co-hosted a webinar detailing the exact steps Casper used to turn customer referrals into their most effective marketing strategy.
Learn from industry experts about:
How to identify your best customers;

The best incentives to offer depending on your product or service;

How to create a referral program from scratch; and

Keys to Casper's referral program, which generates 7x higher ROI than their other marketing strategies.
Published November 17, 2022
Updated October 2, 2023