Convince your biggest fans to post spectacular reviews: 5 steps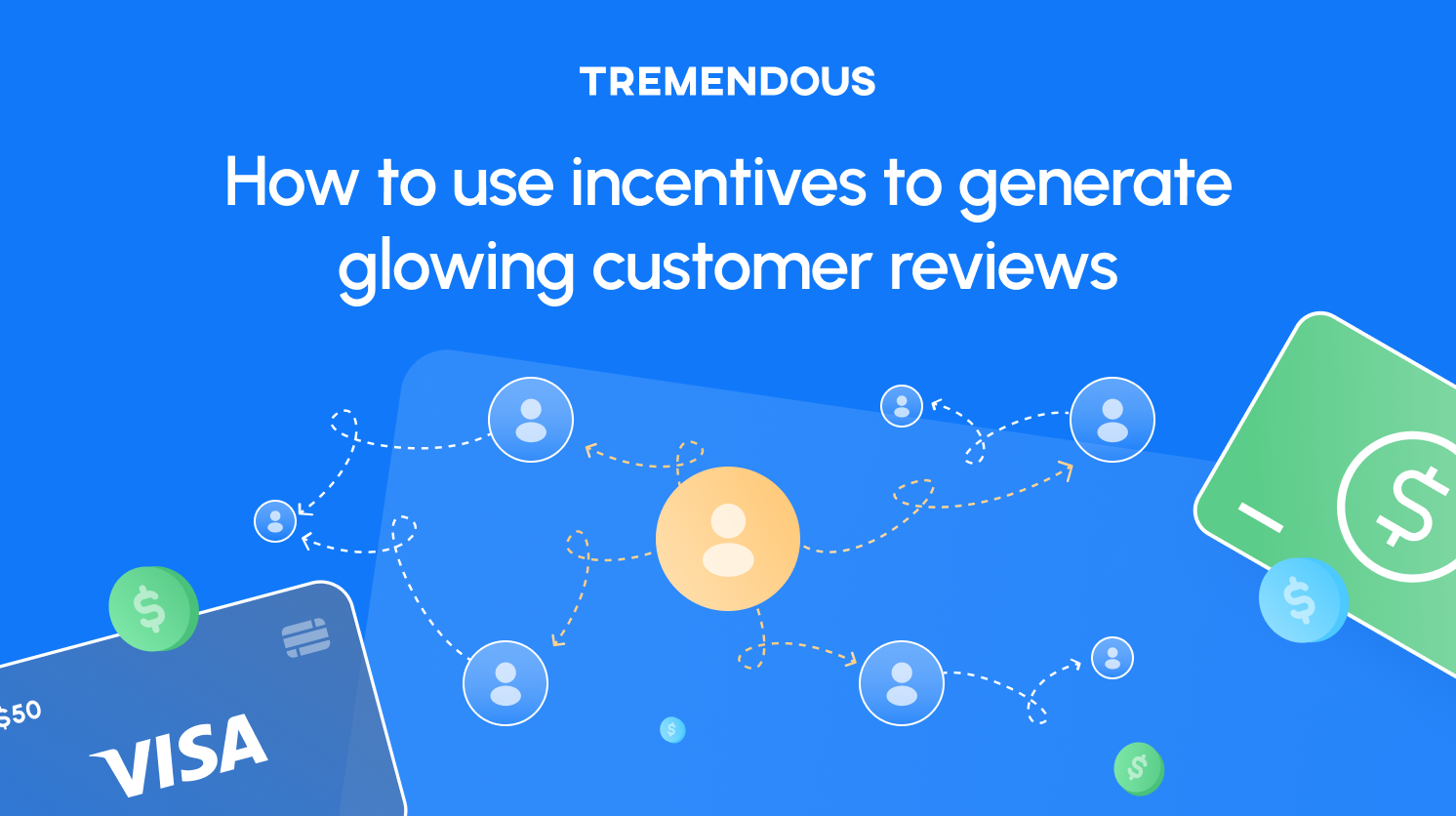 Ratings and reviews are now the top factor impacting purchase decisions — surpassing price, free shipping, brand, and recommendations from family and friends, according to a recent study.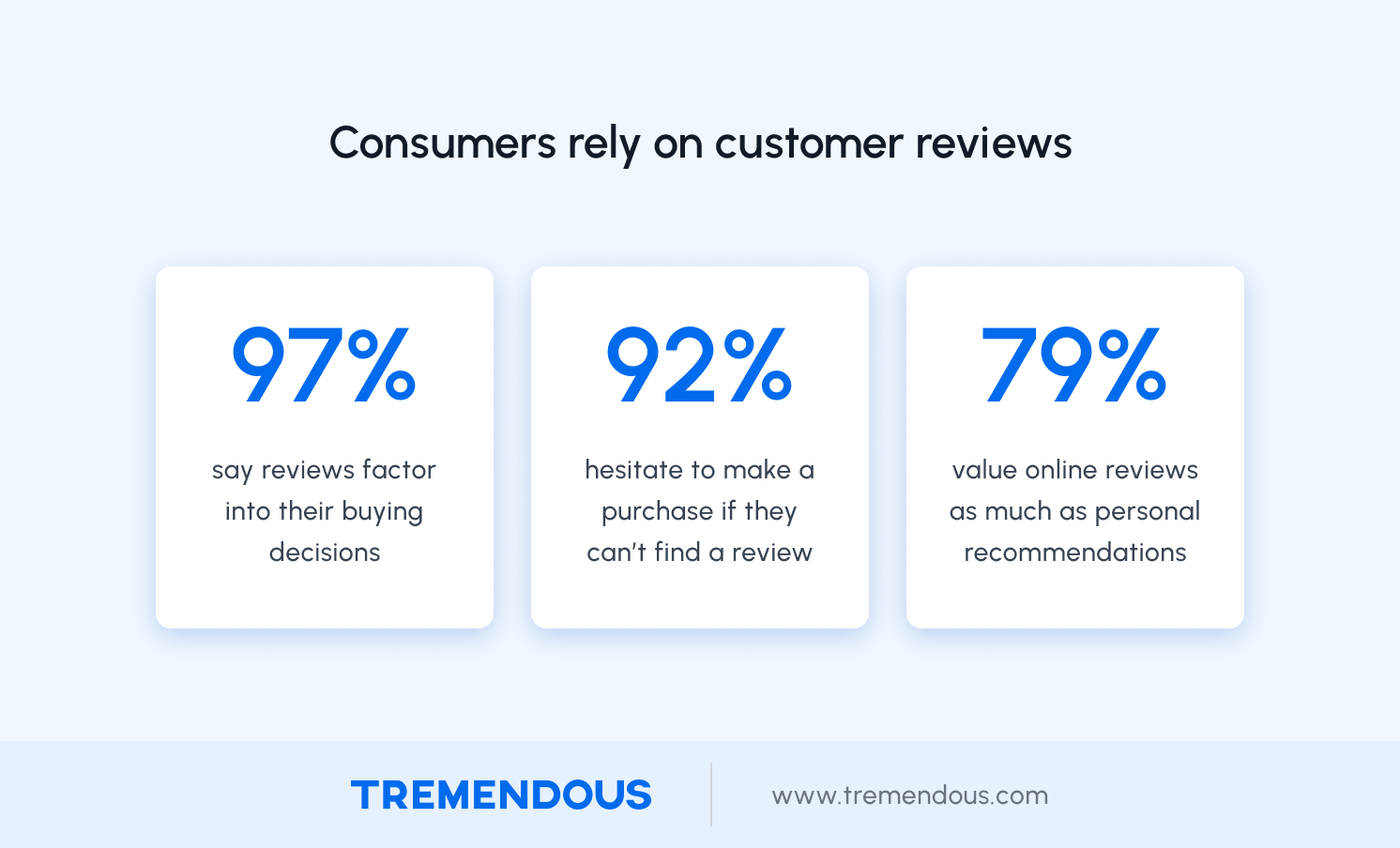 Consider:
97% of customers say reviews factor into their buying decisions;

92% of consumers hesitate to make a purchase when they can't find a customer review; and

79% of customers value online reviews as much as a personal recommendation.
Top-performing brands aren't just lucky, they invest in getting satisfied customers to write reviews.
This article shows you how to drive growth by getting your biggest fans to post their positive experiences online.
Table of contents
Incentives drive customer reviews
Companies don't leave reviews to chance. Rather, they identify their biggest fans and incentivize them to post reviews to the sites that matter most to their customers. This is how fast-growing companies generate reams of positive reviews on review sites like G2 and Capterra.
While the specifics may differ slightly depending on the type of company, there are a few key steps that any business can follow to customer review success.
The ethics of incentivizing reviews
Some might argue that you're bribing customers to leave reviews. This isn't bribery. It's paying for people's time and effort.
Accordingly, you oughtn't tell people what to say (no "$100 for a five-star review"). You've preselected from people who are already happy, and you're compensating them for offering their opinion of your product or service.
You'll still get negative responses. More on how to handle that below.
Quality and quantity
Before starting, it's important to note that not all reviews are created equal.
Ideally, you want to generate high-quality reviews that include ample detail about your customers' experiences. That's because consumers look for the details in reviews — they want to know about the experiences customers had, how you've responded to complaints, whether you live up to the hype, and much more.
Step 1: Get established on a review site and pick a category
Like any strategic marketing effort, the first step is knowing your audience.
There are dozens (if not hundreds) of review sites. You want to identify the ones that are most relevant to your company. Where are customers most likely to go looking for reviews of your product or service?
For software companies, review sites like G2 and Capterra are extremely popular, with many millions of reviews on all types of tech services.

For brick-and-mortar shops, Google Reviews and Yelp are standard go-to's for consumers.
Once you've targeted a few sites, create a profile and pick a category.
Make it easy for people to find your company when they search for whatever product or service you offer by selecting an appropriate category (or multiple).
To do this:
Think like your customers: What terms do they use to describe your company's service or product?

Find your competitors and see how they're categorized.

If you have a new product or type of service that doesn't fit an existing category, some sites allow you to suggest new categories. Take advantage of this to ensure your customers can find you.
This isn't always as easy as it sounds. For example, Tremendous fits within the umbrella term of a "payments" product or service. But that's so broad and includes a long list of companies like Square and Paypal that offer much different solutions. Similarly, "customer loyalty software" could include all types of other services — like survey instruments — that have nothing to do with digitally paying individuals incentives and rewards.
On the other hand, "incentives" is specific and clear, making it likely that customers will be able to find Tremendous without searching through reviews for dozens of unrelated services.

One of Tremendous' main categories on G2 is Rewards and Incentives.
Step 2: Find your biggest fans
Now that people can find you on the most relevant review sites for your company, it's time to start generating reviews.
To do this, you first need to identify the people you want to invite to post reviews. That means setting up a way to find customers who most love your company.
For tech companies, this can be as easy as adding a simple feedback form that pops up within an app after someone's used it for a bit. B2C or retail companies would time their feedback request at key points in the customer journey — after they've made a purchase, received their order, or experienced your service.
Net Promoter Score (NPS) surveys are perfect for this use case because they ask how likely your users are to recommend your service — if they're a Promoter (someone who answers "very likely" with a rating of 9 or 10), you'll know who to ask for a review.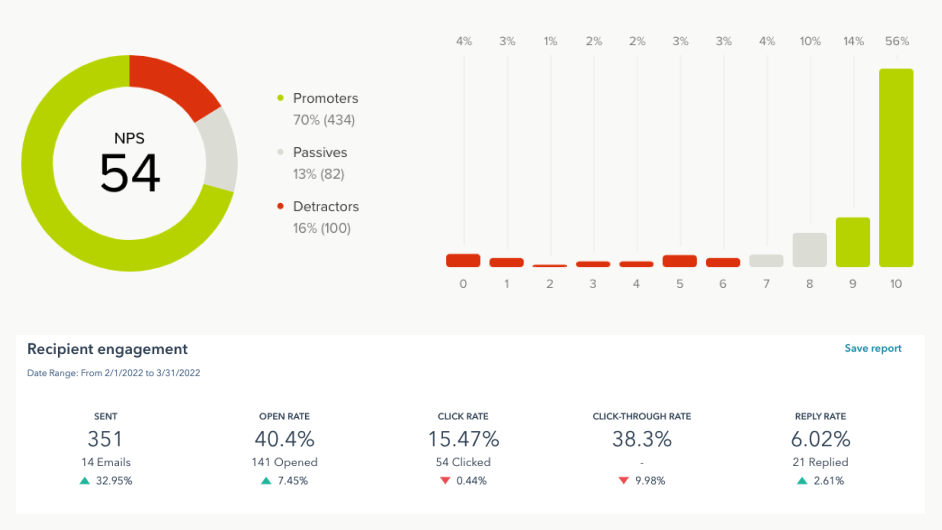 Tremendous has a net promoter score of 54 between Feb and March 2022.
Step 3: Incentivize fans to leave reviews
Now that you've located your most enthusiastic customers, it's time to get them to act. You can follow up with your promoters in a couple ways with a review request:
1. Ask for a review directly from the survey experience — Some survey platforms have built-in integrations with review platforms like G2, so you can direct users to a review page immediately after they finish your survey. Ask customers to rate their experience and then hone in on the highest scores.
2. Follow up with a review request via email — NPS surveys (and feedback surveys in general) are a great way to segment your customer base for more personalized email marketing. Ask your fans for a review, and apologize to unsatisfied customers with an offer to make things right.
The best way to convince someone to do something, of course, is to offer an incentive. Some companies make a financial offer at the onset. Others make a request with no incentive and then follow up with an incentive offer if that fails.
Picking the right amount for your incentive is key. You want to land on an amount that gets someone to act but also won't break the bank if you get many takers.
As a general rule of thumb, it's common for companies to pay anywhere from $25 to upwards of $100 for a single review.
You also want to optimize for high-quality reviews that are credible and provide sufficient detail to people shopping around for new products and services. Sites like G2 make this easy by providing a quality score based on factors like the length of the review and whether the review is anonymous — allowing companies to provide bonus rewards on top of their standard offer. For example, a company might offer to double the incentive for reviews that meet certain quality benchmarks.
Determine how much you're willing to offer and then reach out to provide customers links to the sites you'd like them to post to, based on your research.
Step 4: Share reviews with your team
Customer reviews aren't just helpful for generating new customers. They also provide critical insights about your company's products or services, letting you know what customers most love about your company as well as areas to improve.
Make use of this data by sharing reviews with your team. It has the add-on effect of making coworkers happy.
For example, if a review mentions their experience with customer service, or comments on your company's product packaging, or critiques your user interface, make sure the people in charge of those areas benefit from that feedback.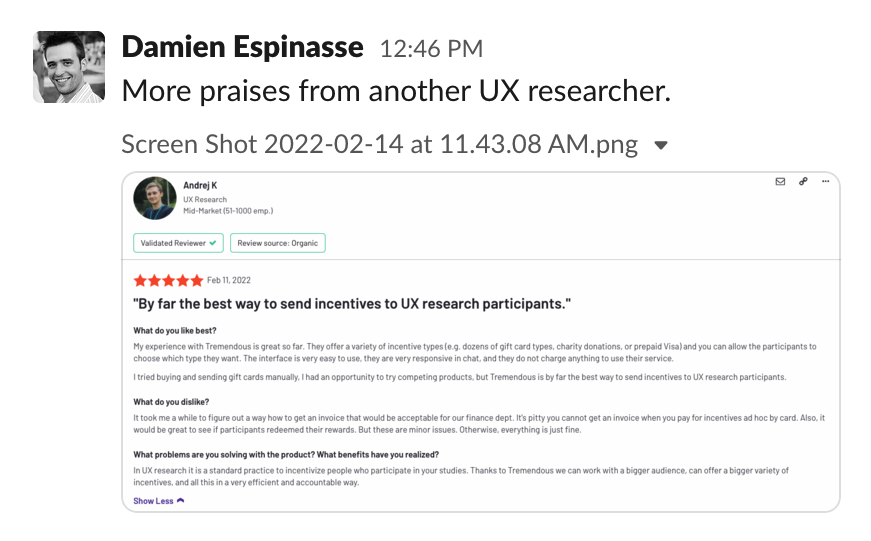 Step 5: Up your game with automation
Once you're up and running, save your team time by automating.
Many companies have a set-it-and-forget-it process whereby customers automatically receive an email invitation to submit a comment when they rate a service highly in a company survey. You can create automatic follow-ups for people who fail to respond to the initial request, perhaps upping the incentive amount. Services like Delighted can help with this.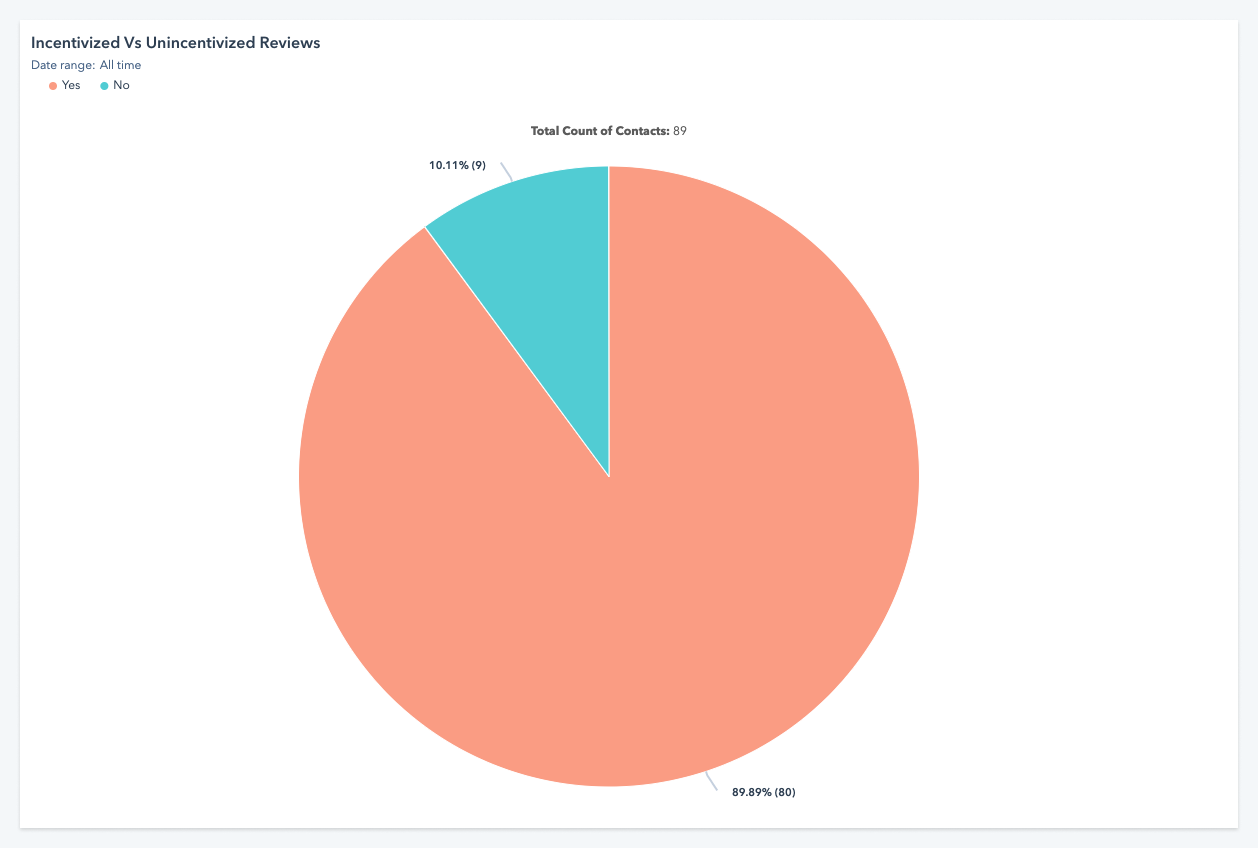 Your favorite tech unicorns use this strategy to solicit positive reviews. Tremendous generates nearly 90% of its reviews using this way. And by following these steps, you can market like a tech unicorn and win new customers through digital word-of-mouth.